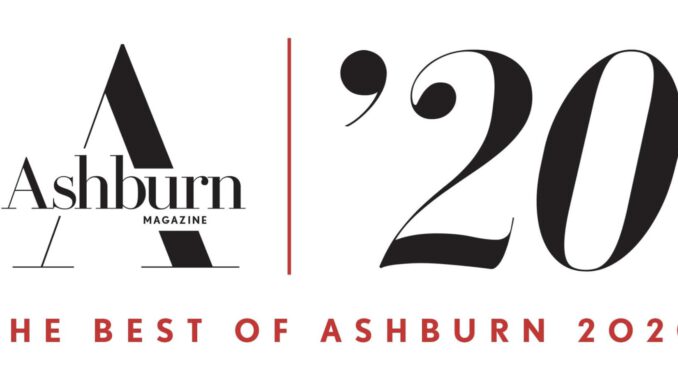 To call something the best, you better have some evidence to back it up. Lots of people think their school, or their mechanic or their favorite restaurant is the best — but who's to say? But when a dozen, or two dozen, or a hundred or five hundred agree that something is the best — now there's some weight behind it.
And that's just what happened in Ashburn Magazine's first-ever Best of Ashburn survey. Readers couldn't wait to throw their weight behind their favorite people, places and businesses around Ashburn. More than 5,400 voters responded in some 100 categories, casting nearly 40,000 individual votes.
The parameters were relatively simple — we were looking for the best businesses based in Ashburn — which for our purposes extends from the Potomac River in the north to Route 50 in the south and from Goose Creek in the west to State Road 28 in the east. For some professional-type services — car dealers, pest control, etc. — we allowed Ashburn-adjacent businesses to be nominated.
So with no further ado, Ashburn Magazine is proud to present the winners in the inaugural Best of Ashburn survey.  Thanks to our voters, and congratulations to all!
AROUND ASHBURN
Best Local Blogger
The Burn
Best Date Spot
AhSo Restaurant
22855 Brambleton Plaza, #108, Brambleton, VA 20148
www.ahsoresto.com
703-327-6600
Favorite Park
Ashburn Park (Dinosaur Park)
Place of Worship
St. Theresa Catholic Church
Best Place To Work
Ahso Restaurant
22855 Brambleton Plaza, #108, Brambleton, VA 20148
www.ahsoresto.com
703-327-6600
ARTS/ENTERTAINMENT
Artist
Audrey Veloce
Author
Sue Fliess
Music Shop
A&A Music
20020 Ashbrook Commons Plaza #110, Ashburn VA 20147  
22895 Brambleton Plaza #107, Ashburn VA 20148
www.aamusiconline.com
703-723-6545 Ashburn        
703-722-2242 Broadlands
AUTOMOTIVE
Auto Dealership
Lindsay Volkswagen
22455 Lindsay Cars Court, Sterling VA  20166
www.lindsayvw.com
703-880-8000
Auto Repair Shop
D&V Autobody Masters
Car Wash
Ashburn Car Wash
Tire Store
Virginia Tire & Auto
BEAUTY/WELLNESS
Barber Shop
Ashburn Barber Shop
Hair Salon
Hair Story by Serap
Tanning Salon/Spa 
Mountcastle Medical Spa and Laser Center
44095 Pipeline Plaza, Suite 270, Ashburn VA 20147  
www.mountcastleplasticsurgery.com
571-266-1776
Dr. Timothy Mountcastle, a double board-certified plastic surgeon, and his team have turned their tiny Ashburn office into a national juggernaut. Their medical spa is in the Top 50 in the country in Allergan sales (the makers of Botox). The office specializes in cosmetic surgery of the breast, including breast augmentation, breast reductions, breast lift, and breast cancer reconstruction. Dr. Mountcastle is also one of the most experienced SmartLipo Triplex liposuction plastic surgeons in the area, performing over 150 liposuction cases each year. Their nationally accredited Vein Clinic has performed more than 5,000 varicose vein and spider vein procedures with beautiful results.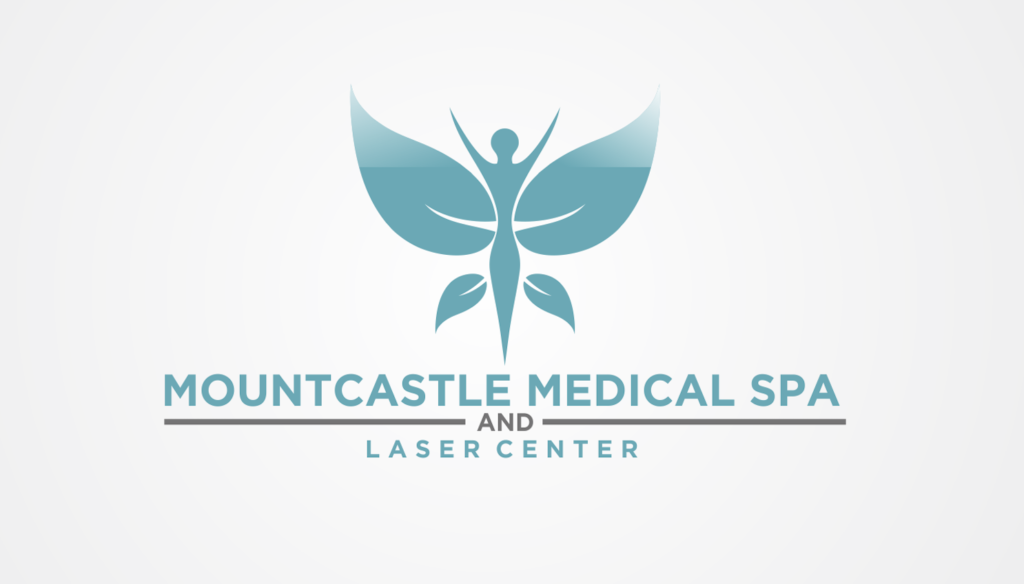 CHILDCARE/EDUCATION
Camp/Summer Program
Kickers Martial Arts Center
 21750 Red Rum Dr, Ashburn VA 20147   
www.kickersmartialarts.com
703-726-8889
Kickers Sports & Martial Arts Complex is locally owned and operated by Master Eric Thompson, who has an extensive background in martial arts. Thompson has been operating afterschool programs  and summer camps since 1999. As Kickers grew, they realized parents and students wanted more than just martial arts. So a large gym was added to accommodate other programs for Ashburn area children. Providing a safe and fun facility for afterschool programs and summer camps is their main focus, but they also welcome trainers who can come in and hold group or private lessons in activities like Zumba, kick-boxing and mother-and-child yoga. Registration is underway for 2020 summer and fall programs.
kickersmac@gmail.com
Childcare/Preschool/DayCare
Chesterbrook Academy (Ashburn Farm)
Music Instruction
Nancy Jin, Nancy Jin Violin Studio
Private School
Loudoun School for Advanced Studies
Public School
Independence High School
Teacher
Kevin Oliveau, Loudoun School for Advanced Studies
Tutoring Service
Loudoun Test Prep
DINING
American Cuisine
AhSo Restaurant
22855 Brambleton Plaza, #108, Brambleton VA 20148
www.ahsoresto.com
703-327-6600
Asian
Chin-Chin Cafe
Bakery/Pastries
Great Harvest Bread Company
Bar
Parallel Wine & Whiskey Bar
43135 Broadlands Ctr Plaza, #121, Broadlands VA 20148
parallelwinebistro.com
703-858-0077
BBQ
Carolina Brothers Pit Barbeque
Brewery/Distillery

Lost Rhino
Coffee Shop
Blend Coffee Bar
Deli/Sandwich Shop
Santini's New York Style Deli
Family Restaurant
Blue Ridge Grill
44065 Ashburn Shopping Plaza, Ashburn VA 20147         
22865 Brambleton Plaza, Brambleton VA 20148                   
955 Edwards Ferry Rd NE, Leesburg VA 20176
www.brgrill.com
703-327-1047
Blue Ridge Grill has been a Loudoun favorite since 2002, offering classic American cuisine. They take pride in the great quality and consistency of their homemade dishes and are honored to have been voted Best Family Restaurant for the past 17 years. Currently, they are offering curbside pick-up or delivery. Their menu has been streamlined to provide the best quality to  guests during these unprecedented times. For the latest details, go to brgrill.com where you can access the Blue Ridge Grill online ordering platform. They appreciate the continued support from the Ashburn community.
Hours of Operation:
Monday-Saturday, noon-8 p.m.
Sunday, noon-6 p.m.
Fine Dining
AhSo Restaurant
22855 Brambleton Plaza, #108, Brambleton VA 20148
www.ahsoresto.com
703-327-6600
Hamburger/Cheeseburger
Five Guys
Ice Cream/Frozen Yogurt Shop
Meadows Original Frozen Custard
Indian/South Asian
Saffron
Italian
Pazzo Pomodoro
Mexican/Southwestern
Uncle Julio's
Outdoor Dining
Clyde's
Pizza
Rubino's Pizzeria
Seafood
Ford's Fish Shack
Wings
Buffalo Wing Factory
HEALTH/MEDICAL
Alternative Medicine Provider
Firefly Acupuncture & Wellness
20600 Gordon Park Square, #130, Ashburn VA 20147
FireflyAcuAndWellness.com
703-263-2142
Chiropractor
Core Concepts Chiropractic
42882 Truro Parish Drive, Suite 207, Broadlands VA 20148
www.core2chiro.com
703-723-4178 
Dentist
Ike Lans, DDS & Associates
Dietitian
Theresa Roth, Be Healthy Nutrition Counseling
Eye Doctor
Dr. Jennifer Sun, Ashburn Eyecare Associates
General Practitioner
Broadlands Family Practice
Orthodontist
Dr. Zach Casagrande, NOVA Orthodontics
Pediatrician
Ashburn Pediatrics
Plastic Surgeon
Dr. Timothy Mountcastle – Mountcastle Plastic Surgery
44095 Pipeline Plaza, Suite 430, Ashburn VA 20147  
www.mountcastleplasticsurgery.com
703-858-3208 Ext. 2
*See Best Medical Spa category for more details.

Psychiatrist/Psychologist/Counselor
Riverside Counseling
HOME/GARDEN
Carpet Care
Loudoun Carpet Care
129 N Bailey Lane Suite C, Purcellville VA 20132                 
20700 Loudoun County Pkwy #156, Ashburn VA 20147
Purcellville: 540-324-4111                                                   
Ashburn: 703-724-4300                                                                       
Carpet Care: 540-338-4300
*See Best Flooring Company for more details.
Furniture Store
Belfort Furniture
Interior Design Services
It's Done by Chantal Gibson
Maid/Cleaning Service
Maid Brigade
Moving Service
My Guys Moving & Storage
45726 Elmwood Court, Sterling VA 20166
www.myguysmoving.com
703-406-9605
Mowing/Landscape Service
(TIE) 
Cedar Run Landscaping
41859 John Mosby Highway, Aldie VA 20105
www.cedar-run.com
703-327-7500
Cedar Run provides complete Landscape Maintenance, Design/Build, and Snow Removal Services to high-end residential and commercial clients in the Northern Virginia area. Cedar Run was founded in 1996 with one truck and a trailer by Daryl Schauss. Schauss grew up locally and graduated from McLean High School. He attended Virginia Tech, graduating with a degree in Civil Engineering and has grown Cedar Run into a multi-million dollar, national award winning Landscape Company. Great landscaping will increase your property value. Whether it's a patio, stone wall, erosion problem, outdoor fire pit or lighting, or simply beautiful gardens and grass, Cedar Run is here for you.
Pro-Mow  
Pest Control
PestNow
22395 Powers Ct Sterling VA 20166
pestnow.com
877-284-2466
PestNow is a part of Ashburn. Twenty years ago, four young men grew up here with a dream. They started this company by performing all the work themselves and now have one of the largest pest control companies in the United States. The roots of their success are buried deep within Ashburn — it is their home. As part of the community, they share a vested interest in its safety and success. All the work they perform — from termites to ants, bats and wildlife — they do with great care because this is their neighborhood.

MISCELLANEOUS
Senior Living Facility
Ashby Ponds
21170 Ashby Ponds Blvd, Ashburn VA 20147
www.ericksonliving.com/ashby-ponds
800-839-3496
Residents of Ashby Ponds often refer to the community as a "small town under one roof" for the wealth of amenities, including a pool, multiple restaurants, and a medical center — all connected through climate-controlled walkways. Here's why your neighbors are moving to Ashby Ponds:
Freedom from repairs

Stylish apartment homes are maintenance-free!

Healthy peace of mind

On-site care to meet your current and future needs.

Predictable expenses
A refundable entrance deposit guarantees there is no financial risk, and a single monthly bill covers most utilities and a flexible dining plan.  
Travel Agency
The Tashjian Team — Dream Vacations
Ashburn VA
www.DreamVacations.com/rtashjian
703-858-9933              
866-282-4177 
OCCASIONS
Catering Company
Ford's Wicked Catering
Event Venue
Clyde's Willow Creek Farm
Florist
Lavender Fields
Photographer
Andrew Sample
Brambleton VA
www.asamplephotography.com
Facebook@ASamplePhotography & Instagram @ASamplePhotography
703-405-3483
PETS
Pet Boarding
Olde Towne Pet Resort
Pet Store/Grooming
Woofie's
Veterinarian
Caring Hands Animal Hospital
43300 Southern Walk Plaza, #124, Ashburn VA 20148
www.caringhandsvet.com
703-726-0448
PROFESSIONAL SERVICES
Accountant
MAVENTRI
Attorney
Legacy Law Centers
Sam Mansoor, Esq.
44084 Riverside Pkwy, Suite 120, Leesburg VA 20176
www.legacylawcenters.com
571-396-6900
Legacy Law Centers, an estate planning law firm, provides the knowledge and guidance to preserve what you have created. Whether your goals are simple, such as transferring your wealth to your heirs or designating a guardian for your children, or more complex, such as shielding your estate from taxes, helping your heirs avoid probate, or protecting your assets from creditors, the team at Legacy Law Centers can help. Our local estate planning attorney, Sam Mansoor, takes the time to get to know you and listen to your story, offering personalized service that meets your needs and achieves your goals.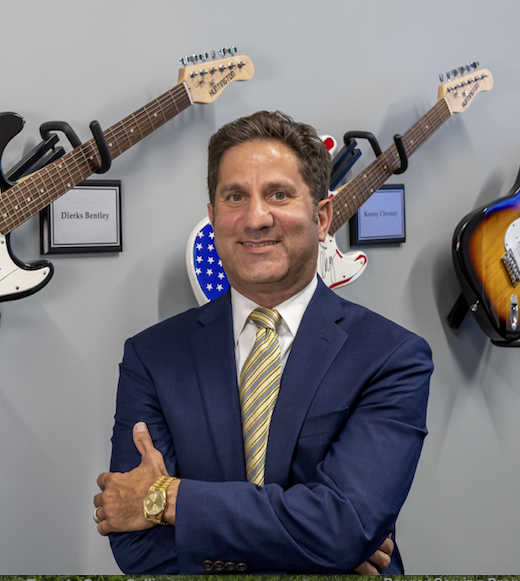 Bank
Navy Federal Credit Union
Financial Advisor
Steve Salley, Salley Wealth Management
44075 Pipeline Plaza, Suite 300, Ashburn VA 20147
salleywealthmanagement.com  
703-435-1406
Insurance Agent/Broker
Joe Mullee, State Farm Insurance
REAL ESTATE/CONSTRUCTION/HOME IMPROVEMENT
Architect
Marc O'Grady Design
Countertops
Granite Marble Works DMV
Electrician
Mister Sparky
21750 Red Rum Drive, Suite 182, Ashburn VA 20147
MisterSparky.com
571-620-6068
Flooring Company
Loudoun Valley Floors
129 N Bailey Lane Suite C, Purcellville VA 20132                 
20700 Loudoun County Pkwy #156, Ashburn VA 20147
www.loudounvalleyfloors.com    
www.LoudounCarpetCare.com
Purcellville: 540-324-4111                                                   
Ashburn: 703-724-4300                                                                       
Carpet Care: 540-338-4300
Loudoun Valley Floors and Loudoun Carpet Care take pride in every customer outcome. Since 1991, they have pledged, to the best of their ability, to complete every project on time, with the highest quality workmanship, exactly as expected. As your hometown source for world-class flooring, you'll find the area's broadest selection of flooring products and quality installation. Plus, they'll help you keep them looking their best. You can expect exceptional attention to your needs, along with honest advice about the products we offer.
Sales and installation: Carpet, hardwood, luxury vinyl tile, laminate

Hardwood floor buffing
Handyman/Home Services
JP Handyman Services LLC
HVAC Company
One Hour Heating and Air Conditioning
21730 Red Rum Drive, #182, Ashburn VA 20147
www.ModernMec.com
571-367-7713
Modern Mechanical is a veteran-owned small business that offers a wide range of home mechanical system services. They include:
When it comes to providing total home coverage, they can't be beat. They offer value through money-saving service plans so that your home operates efficiently and keeps you comfortable at one low price. Experience the Modern Mechanical difference and let them be your complete home services provider.
Landscape Consultant
(TIE) 
Cedar Run Landscaping
41859 John Mosby Highway, Aldie VA 20105
www.cedar-run.com
703-327-7500
*See Best Mowing/Landscape Service for more details.
Rock Water Farm  
Mason/Decks
Holloway Company
42351 Azalea Lane, Dulles VA 20166
www.hollowaycompany.com
703-996-8099
Holloway Company is a family owned and operated outdoor living design/build firm serving Loudoun, Fairfax and north Prince William counties in Northern Virginia. Their team makes your dreams a reality by integrating your thoughts with Holloway's more than 22 years of experience and expertise. From concept to completion, it is their mission to use the best products and skilled craftsmen to create inviting, well-designed, built and furnished outdoor living areas, while developing a reputation of excellence to earn their clients' repeat business and referrals. Holloway is your choice for a superior outdoor living experience.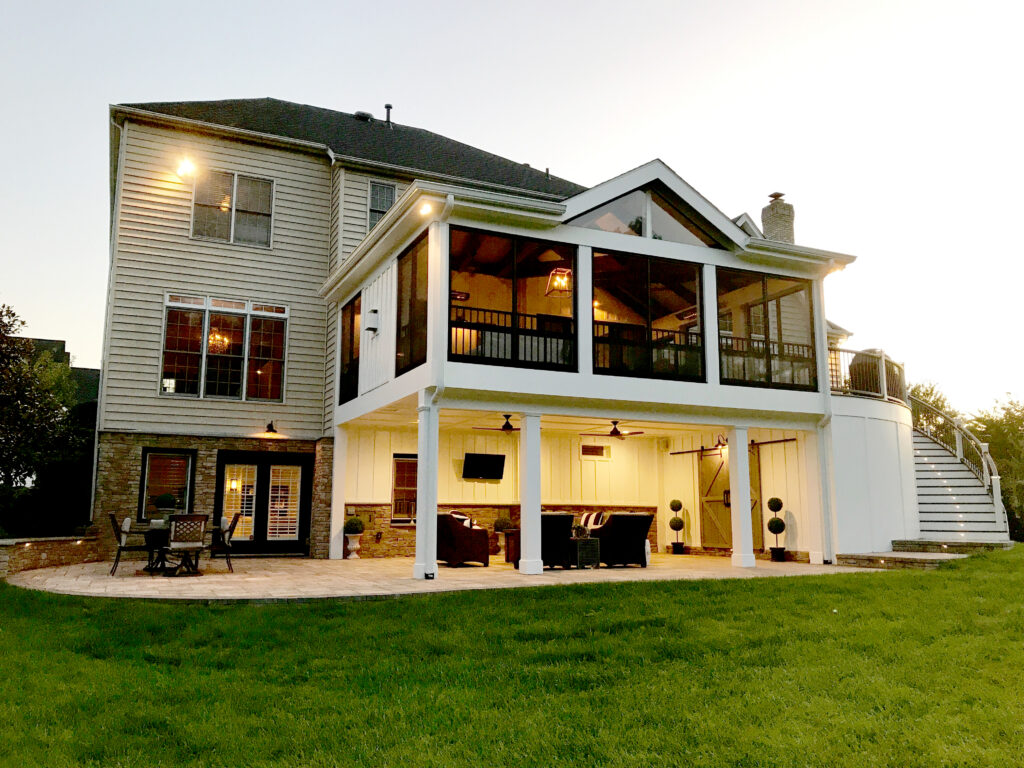 Painting Company
Brush Strokes Painting & More
Email:  Mickey@brushstrokespaint.com
Instagram and Facebook: @BrushStrokesPaintingLLC
703-731-6037
Brush Strokes Painting & More LLC proudly serves Ashburn and the Northern Virginia region. Let them open your eyes to the world of color! Their team of employees are quality conscious and their attention to detail is second to none. They will treat your home, family and place of business with the highest respect. Services include residential and commercial painting — both interior and exterior. Also, drywall repairs, wallpaper removal, deck staining and rehab, rotted wood replacement, pressure washing and trim install. Brush Strokes Painting & More appreciates the support of the community.
Plumbing Company
Plumb Professionals
Ashburn VA
703-402-3773
Real Estate Agent
Christine LeTourneau
20396 Exchange Street, Ashburn VA 20147
www.SoldinLC.com
Cell: 703-402-8024    
Office: 703-724-9494
Christine LeTourneau has been named Best Realtor in Ashburn out of more than 100 deserving nominees. Christine is a Long & Foster top-producing Realtor with over 16 years of experience buying and selling real estate in Ashburn and surrounding communities. A long-time Ashburn resident, she raised her family here, is active in the community, and involved with many local charities. After many hundreds of transactions, she is intimately familiar with the unique qualities of Ashburn's distinct communities. She's ready to offer real estate advice of any kind and looks forward to speaking with you.
Remodeling/Builder Company
Rumble Exteriors
20371 Bowfonds St, Ashburn VA 20147   
rumbleexteriors.com  
800-601-4458
Building trust, hard work, and relentless dedication for their customers is how opportunities like Best of Ashburn happen. That's what Aaron Rumble believes and it's the mantra he lives by. He started his company with the belief that the customer should always be in control and never feel under pressure. Your home is one of your most valuable assets and you should take time with any decisions. Rumble Exteriors has maintained a perfect 5-star rating due to always handling every home as if it's their own. Rumble Exteriors can tackle all types of projects and specializes in roofing, windows, siding and more.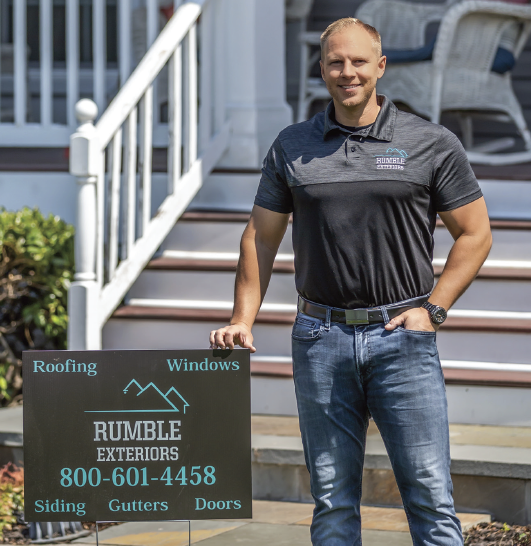 Roofing Company
Rumble Exteriors
20371 Bowfonds St, Ashburn VA 20147   
rumbleexteriors.com  
800-601-4458
*See Best Remodeling/Builder Company for more details.
RECREATION/FITNESS
Dance Studio
Studio Bleu Dance Center
Fitness Center
Popcycle
Martial Arts
Gracie Barra Ashburn Brazilian Jiu-Jitsu
Yoga/Pilates Studio
YogaShak
44921 George Washington Blvd., Ashburn VA 20147
www.yogashakva.com
571-291-3902
SHOPPING
Appliances
Home Depot
Consignment/Thrift Store
Hope's Treasures Good Shepherd Alliance
Electronics/Computer Retailer
Austin Tech
Groceries
Wegmans
Jewelry/Accessories

Zazu Gifts
Retail Center
One Loudoun
Specialty Store/Gifts
Board & Brush Ashburn
Sporting Goods Store
Potomac River Running