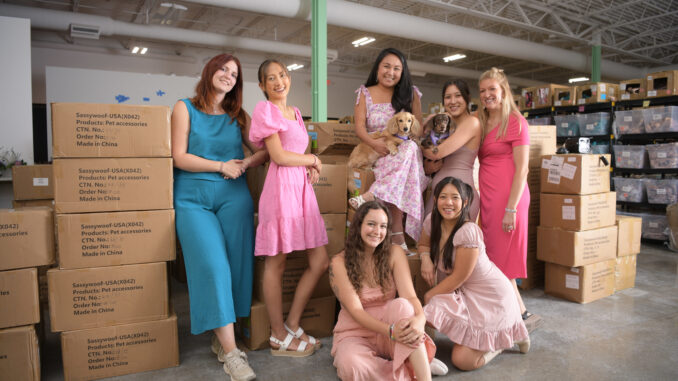 LEADER OF THE PACK
By Jill Devine
In April 2021, as Rebecca Hall was preparing to bring home an 8-week-old mini Labradoodle puppy named Olive, she stopped at an area PetSmart for basic supplies. 
"This was my first pet, and I was nervous," Hall admitted.  
The Broadlands resident studied the store's vast display of harnesses, collars and leashes. After comparing brands, Hall chose a light blue harness with a dinosaur pattern made by a company called Sassy Woof. "Olive was tiny, so I was concerned about comfort, and this one was soft and padded," she said.  
What Hall didn't know is that Sassy Woof is actually a booming business owned by a local woman. Olive's harness was designed by none other than Lansdowne resident Christine Chang, Sassy Woof's founder and creative director. Chang is a native Loudoun County resident, born and raised in Sterling.
Chang's husband, Arturo Chang, officially joined the company about a year ago as its chief operations officer.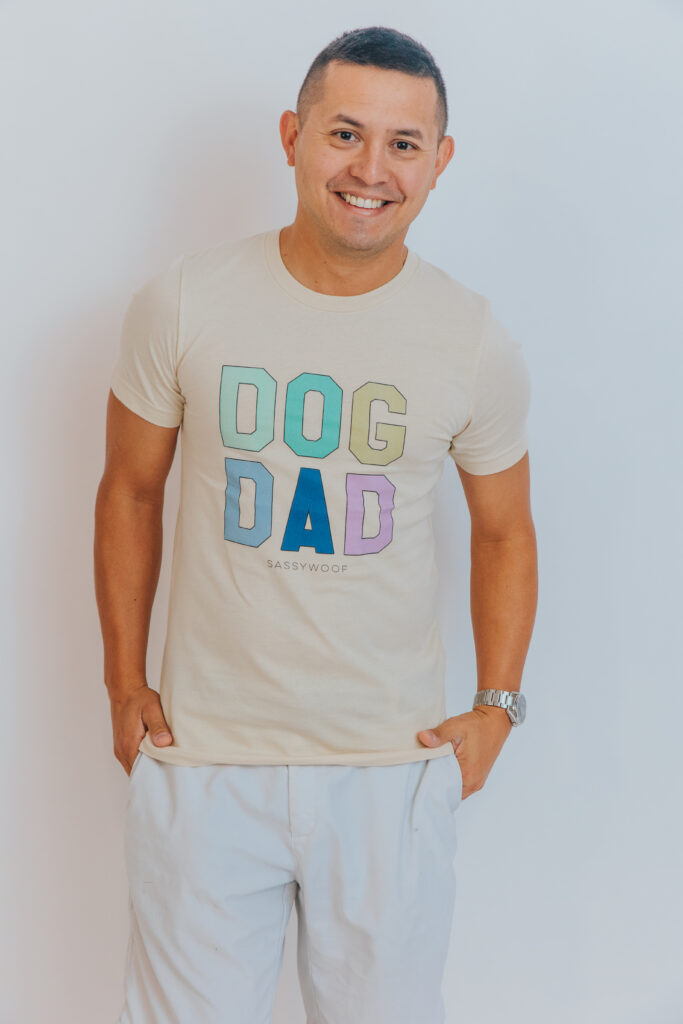 Based in Sterling, Sassy Woof creates a popular line of stylish accessories for dogs and their owners – think color-coordinated harnesses, collars, leashes, bows, bandanas, pet waste bags, blankets, shirts, the list goes on. The items are sold online and at retailers and boutiques worldwide. 
CANINE FASHIONISTAS 
One can't visit Sassy Woof offices without first getting past the security officer, Winston, a chocolate-colored Dachshund with big brown eyes and an even bigger bark. 
"He's friendly, but he loves to make noise," said Christine, as she scooped her other Dachshund, a light, silky-haired beauty named Maya, into her arms. 
"Winston and Maya are the inspiration behind the Sassy Woof brand," Christine said. "Maya is our Sassy model, the face of our company, and Winston – well, he's the Woof," she explained as Winston and Maya dashed off to play with friends in the warehouse. Most of Sassy Woof's more than 20 employees bring their pups to work. 
Chang did not always own dogs. In 2015, she was a full-time project manager in the healthcare industry when she agreed to pet sit a friend's Dachshund. "I fell in love with the breed, so I wanted one."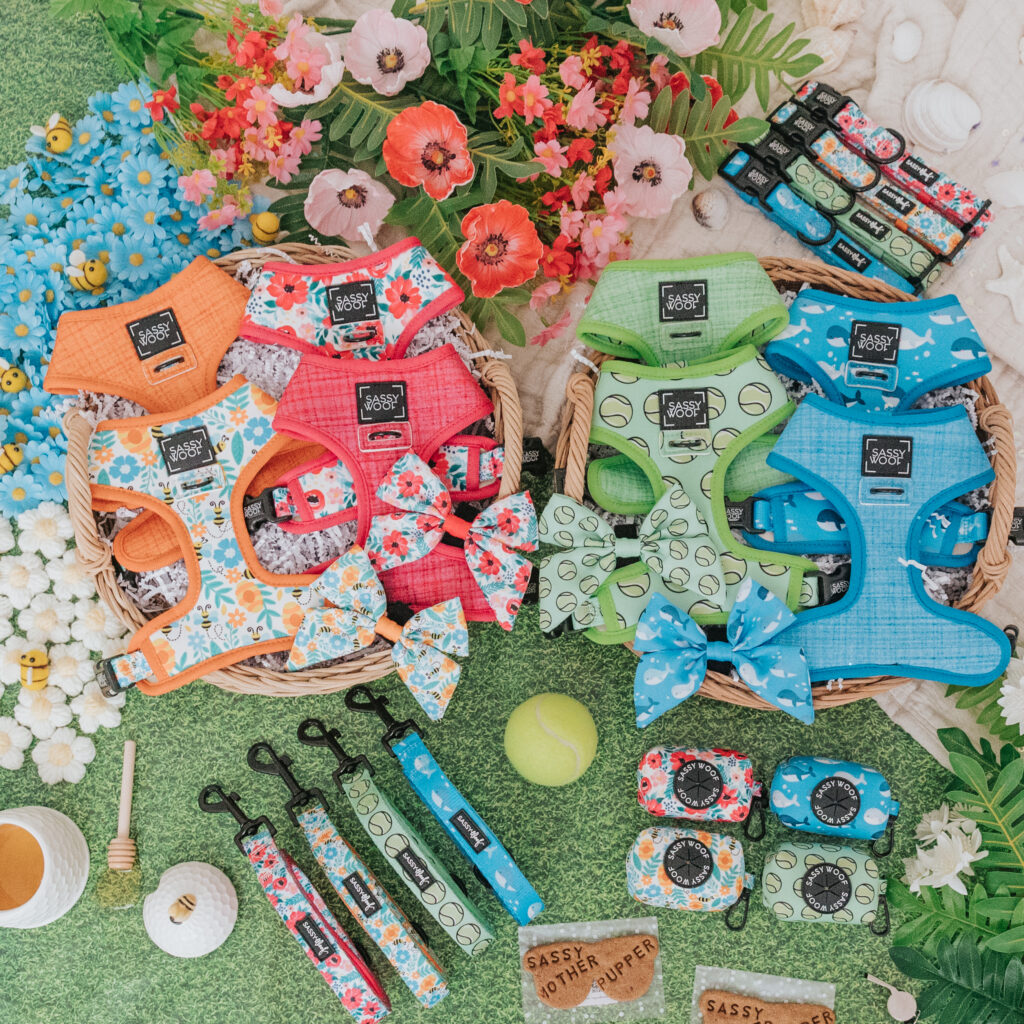 By 2016, Winston and Maya were running the house, while Chang spent her spare time creating Instagram accounts for each dog and posting fun videos of them wearing fashionable outfits. 
"I discovered that I loved being a social media influencer for dogs," Christine said. "But I noticed there was a gap in the market for stylish, affordable dog products. Hence, the creation of Sassy Woof."  
At home after work, Chang – who had no experience in sewing and learned from watching YouTube videos –  began making colorful dog bows and bandanas, which her dogs modeled on Instagram and she sold online. As product lines and sales increased, she networked with outside vendors, mostly in China and India, for bulk production of her creations. Packing and fulfillment was handled in Chang's basement with the help of her mother, Thanh-Hai Nguyen, and her niece, Aileen Giang – then 8, but soon to turn 12 – both residents of Belmont Country Club. 
"My customer base started with the relationships I had formed with social media followers," Christine said. All social media accounts combined, Sassy Woof now has more than 300,000 followers, mainly on Instagram and Facebook. 
OFF-THE-LEASH SUCCESS  
After officially launching in 2018, Sassy Woof moved into its first office space in 2020, and the company will celebrate its fifth anniversary in October. Chang noted that a lot has happened during those years, including the birth of her two children. She left her full-time healthcare career in 2019 to devote herself to building the company. 
Sassy Woof has now sold more than 1.5 million products around the world. Its products are available at more than 600 boutiques worldwide, as well as at about 1,300 PetSmart stores and 300 Walmarts.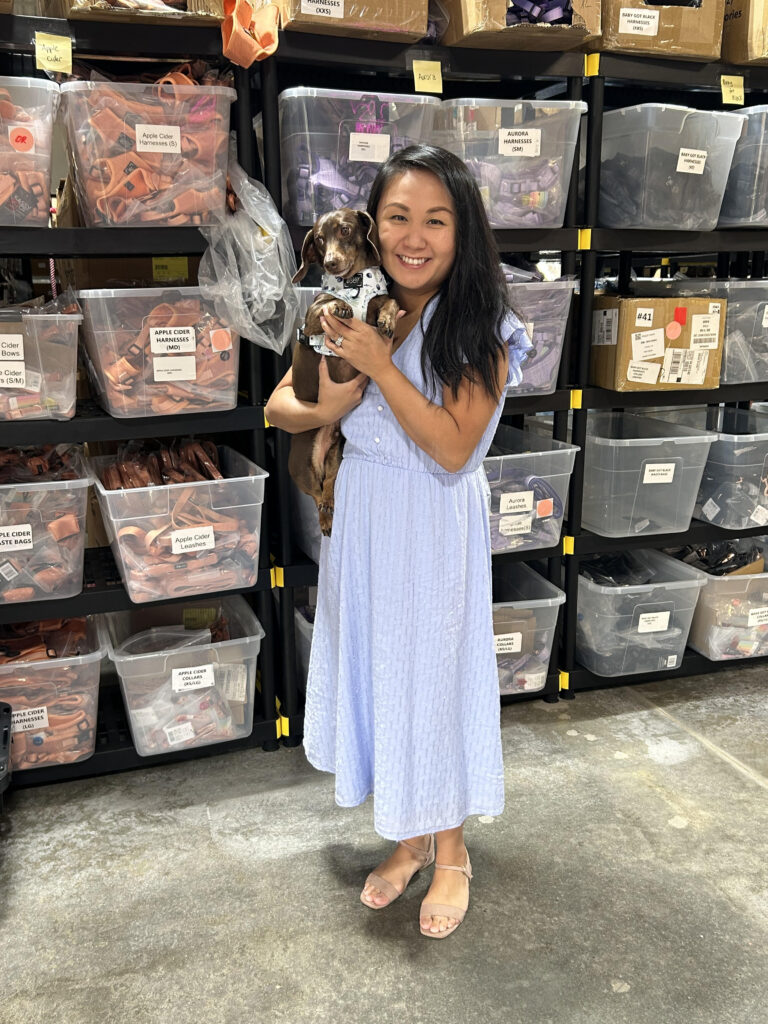 Online, Sassy Woof is sold on multiple websites, including PetSmart, Walmart, Petco, Chewy, Costco Next, Kohl's, Kroger, Giant Eagle and Verishop. Chang's designs have been featured on "Good Morning America," as well as in a variety of print and online publications. 
The product line includes an evolving array of collections and patterns, ranging from flowers and Christmas plaids to superheroes and television characters. Chang collaborates with big names like DC Comics, Warner Bros., Disney, and Mattel to turn out products featuring the likes of Batman, Mickey Mouse, Scooby-Doo, and Harry Potter. 
"A lot of our customers watched those shows growing up, so it's nostalgic," said Christine, who is excited about some upcoming new Barbie-themed products, thanks to the huge interest in the recent blockbuster movie "Barbie." 
Chang is the daughter of Vietnamese parents who came to America in 1985 with little cash, but large dreams, she says. 
"To start the company, I borrowed money from my mother, but I was able to pay her back almost immediately. The first year, we invested everything back into the business," said Christine, who has watched sales steadily increase ever since. 
At first, Arturo Chang admits he was skeptical of his wife's vision. 
"She had a stable career. I thought it was a ridiculous idea, but I told her she had my support," he said. But by 2022, Arturo was a believer, and he left his own full-time career as an attorney to help with the company's day-to-day operations. 
"Life is based on risks," Arturo said. "Sassy Woof remains Christine's creation, and never in a million years would I have thought I would be working with her – for her – doing this. It's been an incredible experience watching her balance being a mom, boss, owner and entrepreneur all at the same time, while taking a business from the basement to being a global brand in just five years."
Sassy Woof also gives back to the community, donating time, products and a portion of proceeds to animal charities. Christine said the company has already donated more than $14,000 this year to local and national rescues. 
TAKING CARE OF THE PACK 
Sassy Woof's chief photographer, Alex Bilbo, has been with the company since 2020. "The biggest compliment is when people ask if we are all family," Bilbo said. "That's how tight our team is."
Bilbo, who graduated from Briar Woods High School and lives in Loudoun Station, said she never imagined she could find a creative photography job in the suburbs after graduating from Virginia Commonwealth University with a degree in mass communications and marketing. 
"It's a unique find among all the data centers and big warehouses, and I'm thankful for a job that fulfills my artistic needs while offering good benefits."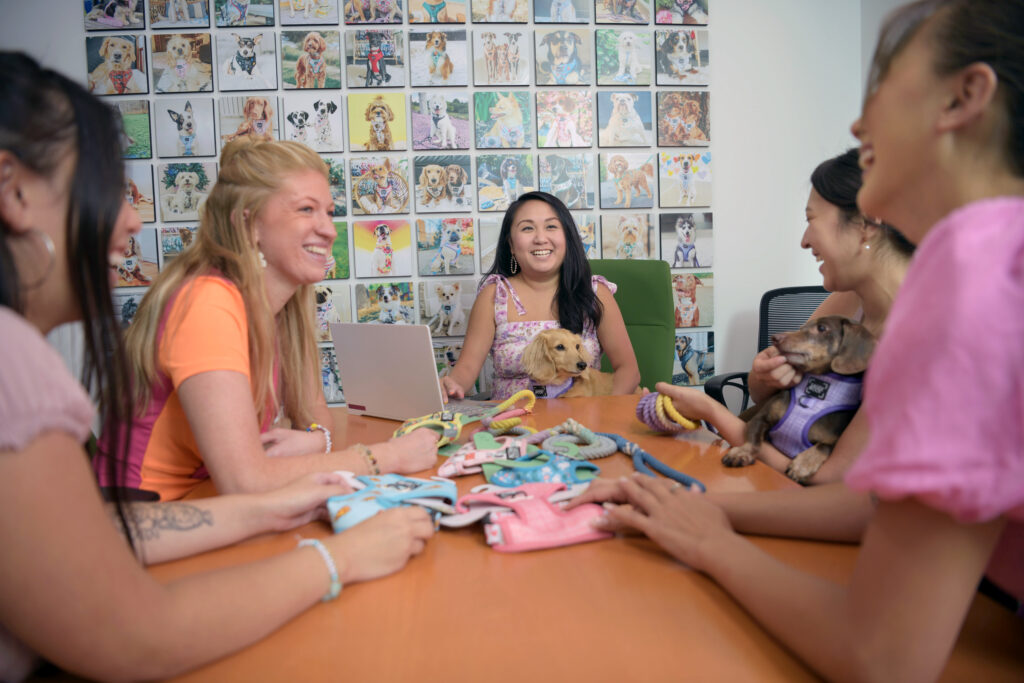 Lansdowne resident Judy Nabong has a long history with Sassy Woof, first as a customer and then as an employee. Like Christine Chang, Nabong created a successful Instagram following for her dog, Krispy Kreme, a fluffy white Bichon Frisé. 
"I had seen other dogs on Instagram wearing Sassy Woof products," Nabong said. One day  Nabong was waiting in line at the Sterling post office and spotted several bins filled with outgoing Sassy Woof boxes. "I wondered if it was a local company, so I messaged the company on their website. Christine responded and said yes, she lived in Lansdowne. That was so exciting." 
Nabong took a part-time job helping with fulfillment at Sassy Woof in 2020. 
"The packaging is beautiful, with everything matching, from stickers to tissue paper," Nabong said. "Customers digitally share everything, from carefully opening the box to putting the products on their dog, with posts on Instagram. It's called unboxing, and it's an important part of the whole marketing shebang."
For customer Rebecca Hall and Olive, their chance encounter with Sassy Woof at a local pet store has been fortuitous indeed. Because the harness is adjustable, Olive – now fully grown at 14 pounds – still wears it more than two years later. 
"It's the only harness she's ever had," Hall said.
Jill Devine is a freelance writer and former magazine editor from Loudoun County who writes for a variety of Virginia publications.