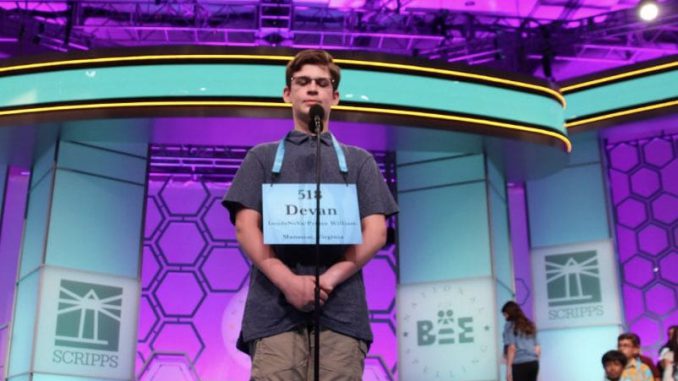 InsideNoVa/Prince William spelling bee champion Devan Waghray was among nine Northern Virginia students who correctly spelled words in the third round of the Scripps National Spelling Bee on Wednesday afternoon but failed to advance to the finals.
The 50 finalists were selected from the 369 competitors who correctly spelled words on stage in both rounds two and three, based on their scores in a preliminary written test given to all spellers on Monday. The written test included spelling and vocabulary questions.  Individual spellers' scores were not released.
Waghray, a seventh-grader from Centreville who attends Manassas Christian School, correctly spelled "intolerable" in the second round on Tuesday and "parentheses" in the third round.  Waghray advanced to the National Bee, at the Gaylord National Hotel, by defeating nearly 50 other spellers to win the Prince William Regional Spelling Bee in March. The Prince William bee is sponsored by InsideNoVa and the Bel-Air Women's Club.
The other eight Northern Virginia students who spelled their words correctly in both the second and third rounds but failed to advance to Thursday's finals were:
Ashrita Gandhari of Ashburn, winner of the Loudoun County Public Schools spelling bee, who correctly spelled "citronella" and "photophilic"

Charlotte Walsh of Compass Home School Enrichment, Oakton, "demantoid" and "medina"

Vishal Vinjamuri of Farmwell Station Middle School, Ashburn, "interloper" and "fructiform"

Akshita Balaji of Merrifield, winner of the Fairfax County Spelling Bee, sponsored by the Fairfax County Council of PTAs, "beau monde"  and "picayune"

Ananya Balachander of Eagle Ridge Middle School in Ashburn, "aoristic" and "argus"

Isabelle Reinecke of the Potomac School in McLean, "guanabana" and "envoy"

Aryan Nindra of Seldens Landing Middle School in Leesburg, "pascal" and "sympathetic"

Emma Ymeri of Harmony Middle School in Hamilton, "chinampas" and "engender"
Two Northern Virginia spellers were eliminated in Wednesday afternoon's third round:
Fetin Hussain of Pinnacle Academy in Oakton, who spelled "amative" correctly in the second round but misspelled "penury" in the third round, spelling it "penyure"

Olivia Coleman of Matthew Maury Elementary School in Alexandria, who spelled "histrionics" correctly in the second round but misspelled "vermillion" in the third round, spelling it "vermilian"
Only one speller from Northern Virginia was eliminated in Tuesday's second round.  Pranav Elavarthi of Carson Middle School in Herndon misspelled the word "placoderm." He spelled it "placaderm."
A total of 565 spellers competed this year.  Of those, 518 advanced to the second round.
The 50 remaining spellers will compete in the finals on Thursday morning, broadcast on ESPN2 from 10 a.m. until about 2 p.m. and continuing Thursday evening, broadcast on ESPN at 8:30 p.m.
The National Spelling Bee is open to students who have not yet completed the eighth grade. Spellers qualified by winning their regional bee or by applying through the National Spelling Bee's RSVBee program.