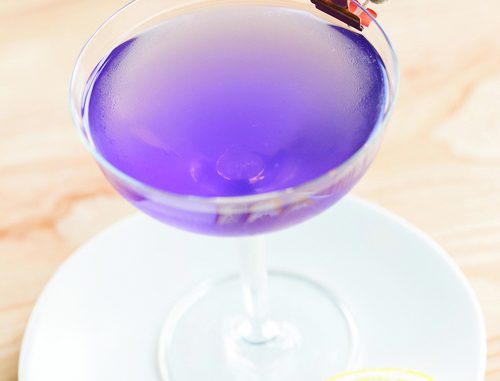 By Christine Craddock
Phyllis Ethington-Green is a local foodie. She loves experimenting with new dishes and trying new flavors. About a year ago, she and her husband, Ed, decided to go to AhSo Restaurant, which had recently opened in the Brambleton Town Center just a mile from their home.
They quickly fell in the love with the food, the people and the ambiance — but perhaps most of all, they loved the creativity of AhSo's resident bartenders.
"They have a wonderful jalapeño margarita. It has just the right amount of spiciness … a tiny hint of heat as it hits the back of your throat," Ethington-Green said. "This was a pleasingly pleasant surprise."
In a crowded restaurant market, the bar menu at AhSo, with its wildly original cocktails and requisite crazy names — has also helped differentiate this modern American bistro from many competitors.
"I want us to have the type of bar that just reeks of craft cocktails," said Jason Maddens, the owner, chef and creative force behind AhSo.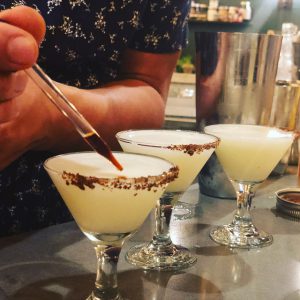 Reek away.
There's the Sweep the Leg Johnny! with Flor de Cana seven-year rum mixed with amaretto, port, house dram and bitters. And the Pink Panther, featuring El Jimador Silver tequila, fresh watermelon, Cointreau, agave and lime. Or how about AhSo's version of the Manhattan? It's called The O.G. and is made with Elijah Craig bourbon, maple and angostura marinated orange, with a house brandied cherry.
The bar menu changes seasonally — a new version just debuted in April.
"The farmers' markets are about to kick off and we draw a lot of inspiration from that," Maddens said. "Both our food menu and our cocktail menu are based on what's available."
Christian Puccio is the general manager at AhSo, and he is also the main mixologist behind the cocktail menu. He's big into what he calls "functional garnishes."
"Most of them, you can eat, of course. But for The O.G., the orange is marinated in angostura bitters, so you get the aroma while you are drinking it," he said. "If you smack a basil leaf, it brings out the oils and when you put that on top of a drink, you're going to smell it and that enhances the flavor of the drink."
Beyond the ingredients used in a drink, AhSo's bartenders also pay attention to presentation. Some garnishes are hooked on the rim of the cocktail with a bulldog binder clip. Maddens has curated a unique collection of glassware for his bar's creations — including some goblets that were gifted to his parents at their wedding back in 1975.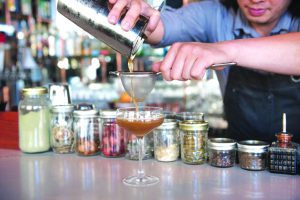 It's this type of whimsy that sets an AhSo cocktail apart.
"It's a little elevated," Puccio said with a laugh. "It's not your old school where you get a maraschino cherry on a toothpick."
Ethington-Green loves the adventure of a visit to AhSo. She and Ed are usually there at least once a week, sometimes more. When they're in an especially playful mood, the couple will challenge the bartenders on duty to create some magic on the fly — which they're happy to do.
"The bartenders there have great ideas," Ethington-Green said. "Just tell them what your favorite libation is, and they usually can come up with something very tasty."