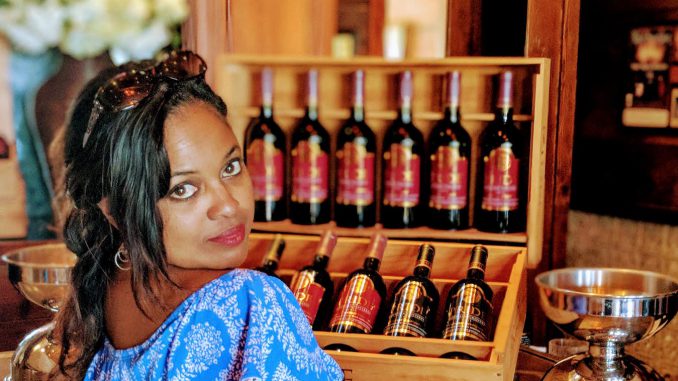 By Chris Wadsworth
Renee Ventrice is one of those neighbors who seems to know everyone and be involved in everything. She's vice president of marketing for the fast-growing Woofie's Mobile Pet Spa in Ashburn. She and her husband, Don, also launched Cork & Keg tours in 2017, taking local oenophiles (wine lovers) and zythophiles (beer lovers) to Loudoun County's many wineries, breweries and more,
A self-described "Air Force brat," Ventrice was born in Hawaii and raised in Nebraska. She spent six years in the Navy as a cryptologic technician, analyzing satellite data before moving to Ashburn.
From her home in the Broadlands, Ventrice answered our very random questions. Here are excerpts of our convo.
ASHBURN MAGAZINE: YOU'VE GOT A BIG PERSONALITY, MEANT IN THE BEST WAY. HOW DID YOU SURVIVE IN THE BUTTONED-DOWN MILITARY?
Renee Ventrice: That's a good question. It's definitely the opposite of what most people think of me, but I'm definitely very process-driven. I definitely like the idea of having something done a certain way, the right way, the most efficient way. So that part of me really thrived in the military.
WHAT BROUGHT YOU TO ASHBURN?
After he got out of the Navy, my husband got a job as a government contractor. This area has a lot of people in our field from the Navy so … we decided to stay here and raise our son. (Gino, now 20.)
YOUR TOURS GO TO WINERIES AND BREWERIES. SO, WHAT DO YOU PREFER — WINE OR BEER?
Gosh… Friday — beer, Saturday — wine. I'm an equal opportunity drinker. But if I had to choose one, it's probably going to be wine.
YOU'RE A CERTIFIED WINE EXPERT (WSET 2), BUT BE HONEST — HAVE YOU EVER TRIED BOONE'S FARM?
I have — and I do not like it (laughs).
YOU LOVE TO TRAVEL — WHAT DESTINATION IS AT THE TOP OF YOUR BUCKET LIST?
It would definitely be Italy. I would like to travel to Florence and then do the Italian wine country in Italy.
WHAT'S SOMETHING ELSE THAT'S ON YOUR BUCKET LIST?
Oh gosh, I've done so much (laughs). I would love to open up a tasting room someday in wine country that pairs the restaurants nearby with the wines that are in my tasting room.
WHAT HAS BEEN THE MOST EXCITING MOMENT IN YOUR LIFE, THUS FAR?
My husband and son are not offended that it was dancing with Prince in Munich in 1991. It was the biggest moment of my life. I stood outside through a hailstorm for 10 hours waiting for the concert and got in the very front row. I jumped up and down and yelled "pick me" me through the entire end of the concert. They finally picked me up by my arms and put me on stage and I got to dance with him for about 20 minutes before they finally pulled me off stage.
WHEN YOU HAVE A DAY OFF, WHERE DO YOU LIKE TO HANG OUT IN ASHBURN?
Any place with an outdoor patio, where I can listen to music, read a book and enjoy excellent food. There are so many places with great food around here. That's what I do. Just sit outside and eat, drink and read.
NAME A PASSION YOU HAVE THAT'S NOT FOOD OR WINE?
Dancing. I spent a lot of years as a fitness instructor and a certified personal trainer. Injuries to my left foot took that career from me, but when I'm home by myself, I blast the music and dance like no one's watching.
IF YOU COULD GIVE YOUR SON ONE PIECE OF ADVICE, WHAT WOULD IT BE?
Join the military. It was our formative years when my husband and I were both in the service. It helped us to mature, to learn about life outside of the U.S. and really kind of figure out a bit more about who we were — all while serving our country and having the opportunity to go to school and meet people all over the world. "Join the Navy and see the world." That was the motto and it's true.
=====
LIGHTNING ROUND
Favorite Dog Breed: Jack Russell Terrier
Favorite Non-Canine Animal: Cheetah
Favorite Ashburn Restaurant: Parallel Wine & Whiskey Bar
Favorite DC Restaurant: Zaytinya
Favorite Wine: Cabernet Sauvignon
Favorite Movie: "Singin' in the Rain"
Favorite TV Show: "Frasier"
Favorite Book: "Love by the Glass" by John Brecher and Dorothy Gaiter
Favorite Season: Autumn
Favorite Holiday: I hate the holidays. I am not a holiday person.
Favorite Sports Team: By marriage, the New York Yankees