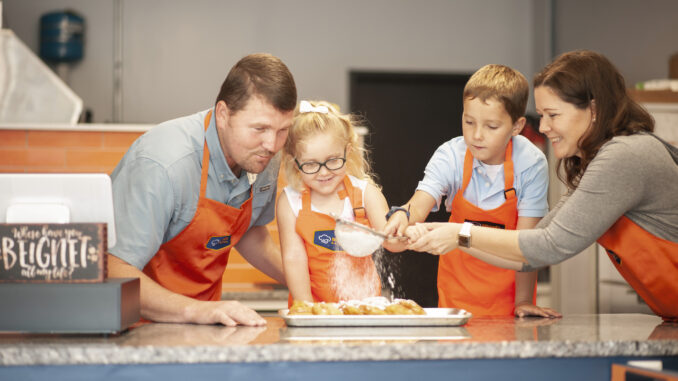 POOF!
By Chris Wadsworth 
"Poofy."
"Pillowy." 
"Pillow poofiness." 
These are some of the words Scott Bilstad comes up with as he tries to describe his signature beignets. His secret ingredient: time – letting the dough proof, or rest, longer than a typical baker might. 
"We do a 12-hour proof," he said. "We let the dough proof overnight so it can leaven and so you get that nice pillow poofiness." 
And it must be working because he and his wife, Jenny, sell so many beignets that they are about to open their first bakery café right in the heart of Ashburn.
It's been a winding road for Bilstad's Beignets, which will be at 20937 Ashburn Road, Suite 150 and is scheduled to open on October 12. The purveyor of the famous puffed French pastry – pronounced "ben-yay" – got its start back in the depths of the pandemic. 
Scott had been furloughed from his job with U.S. Foods. The Navy veteran and longtime executive chef was champing at the bit for something to do besides spend all day with the couple's two young children. 
"I've walked our neighborhood 800 times – it's two square blocks. And I can't watch anymore Disney Jr.," Jenny recalled Scott saying. "I've got to cook."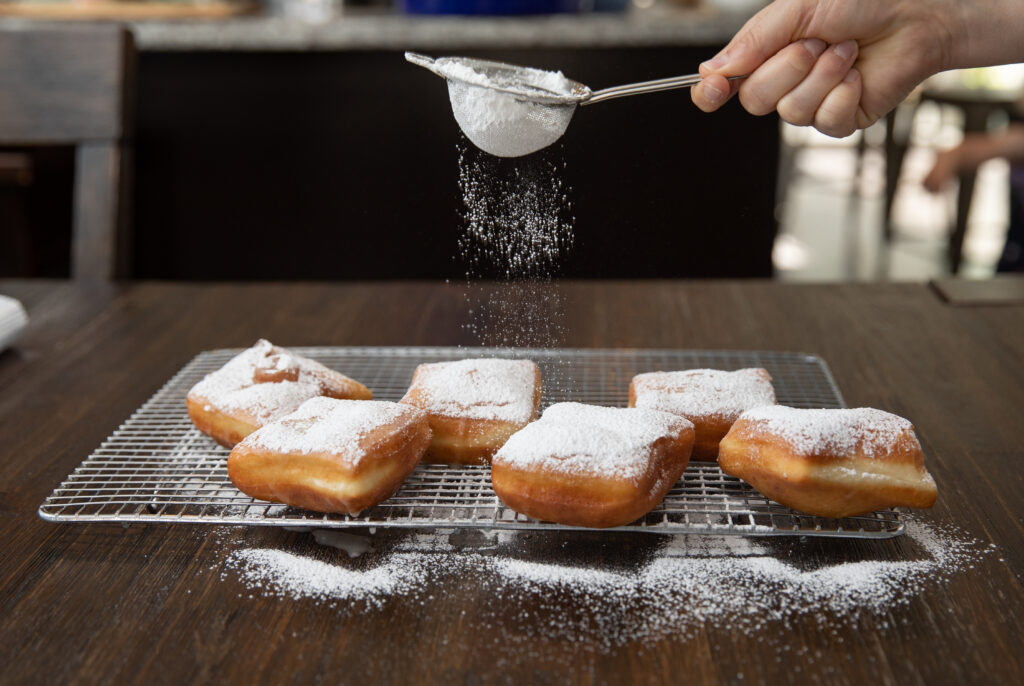 While doughnuts may be quintessentially American, Scott knew from experience that beignets usually sold better. And he knew how to make them. So, in April 2020, the Bilstads, who live in Purcellville, put up a post on their neighborhood Facebook page to see whether anyone was interested. They expected maybe 10 people to respond. Instead, they got 75 orders for beignets the first day. 
The couple started taking orders and customers would swing by and pick them up. Word spread, it got shared on social media and less than a month later they had sold 4,500 of the powdered pastries. 
Soon they were doing pop-up stands at wineries and breweries – business was booming. 
"We started doing grab bags, three beignets in a bag," Jenny said with a laugh. "You can take those and eat those in the car, and no one will know you had any. So, people would do that while they were driving a dozen home to their family." 
Leslie Recinos, who lives in Ashburn's Loudoun Valley Estates neighborhood, is a friend of the Bilstads but wasn't a natural customer for them. 
"I am not a sweets person at all," Recinos said. "I like more salty and savory. But their beignets are my one go-to treat. They are the perfect amount of sweet, and I love how fresh they are." 
Eventually, Jenny and Scott realized they had to get out of their house and into a dedicated kitchen. Thus, the birth of Bilstad's Beignets brick-and-mortar café in Ashburn. With his culinary background, Scott is handling all the beignet prep and baking. Jenny, who also has extensive experience in restaurants, continues to work at Fortessa, a major restaurant supply company based in Ashburn. But she will be handling the business side of Bilstad's Beignets. 
The menu at Bilstad's will be exceedingly simple. Beignets. Hot and cold brew coffee. And dippers – flavor cups you can dunk your beignet in. The starting line-up of dippers will include fudgy chocolate, strawberry cardamom, wild blueberry, bourbon caramel and vanilla mango. 
Scott also says to look for flavored and filled beignets soon. They've already done some experimenting to great success. 
"We did a pumpkin beignet around October. We did a gingerbread beignet in December," he said. "We did a peanut butter fluff-filled beignet – the fluffernutter."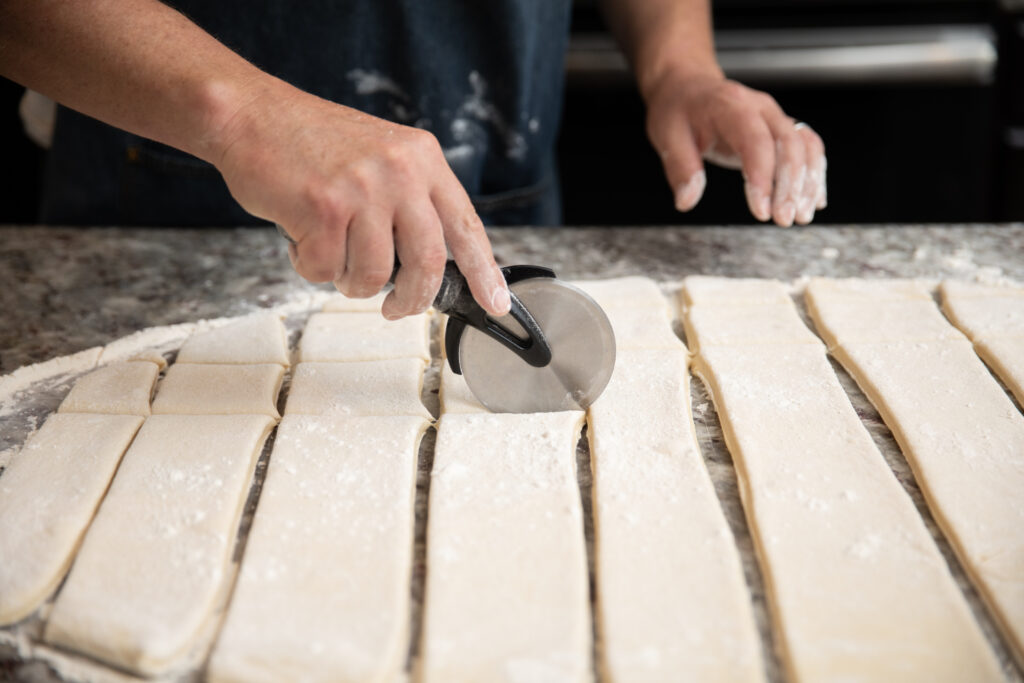 Roe Sommer, a resident of Ashburn Farm and local real estate agent, teamed up with the Bilstads for a fundraiser to support the Juvenile Diabetes Research Foundation, a condition that has affected both families. Sommer admits folks thought it was funny to sell sugary beignets to raise money for diabetes research, but she is nevertheless thrilled about the new café. 
"They are absolutely scrumptious. They melt in your mouth," Sommer said. "Jenny and Scott are great people and I'm really excited about them coming to Ashburn. They will be right around the corner, and we can get beignets whenever we want." 
That increased availability is one of the things the Bilstads are counting on. Before, people had to place orders and arrange pick-ups. Now Wednesdays through Sundays, the café will be open, and people can stop by on their own schedule.
And the hope is that guests will come in, perhaps with a friend, sit at one of the café's small tables and just have a respite from the busyness of life. 
"A bad day or a great day – a cup of coffee and a beignet will warm you up," Jenny said. "Even better – share a beignet with a friend. It's half the calories and twice the fun."