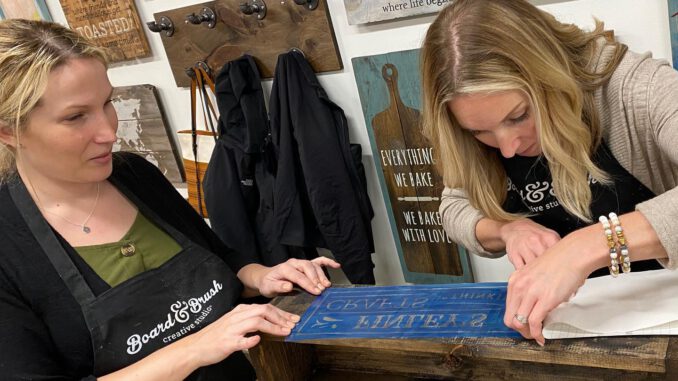 CREATIVE SPIRITS
by Jill Devine
Sometimes a happy accident can take your life in a whole new direction.
Last year, Ashburn Farm mom Jenna Myers was searching for the Dollar Tree in the Broadlands Village Center when she noticed a storefront sign announcing that Board & Brush Creative Studio would be opening soon.
Board & Brush is a national chain of do-it-yourself studios where guests build and decorate wooden decor items for their homes. Myers, a part-time teacher and mother of three young children, was immediately interested. She visited the company's website and registered her entire moms' group for one of the new studio's first workshops.
"It's my time to get out of the house and take a break just for me," said Myers, who visited the studio almost monthly since it opened in September. She says she enjoys gathering with like-minded crafters, enjoying a "girl's night out" atmosphere, listening to music, sipping some wine — all while learning some practical lessons about working with wood.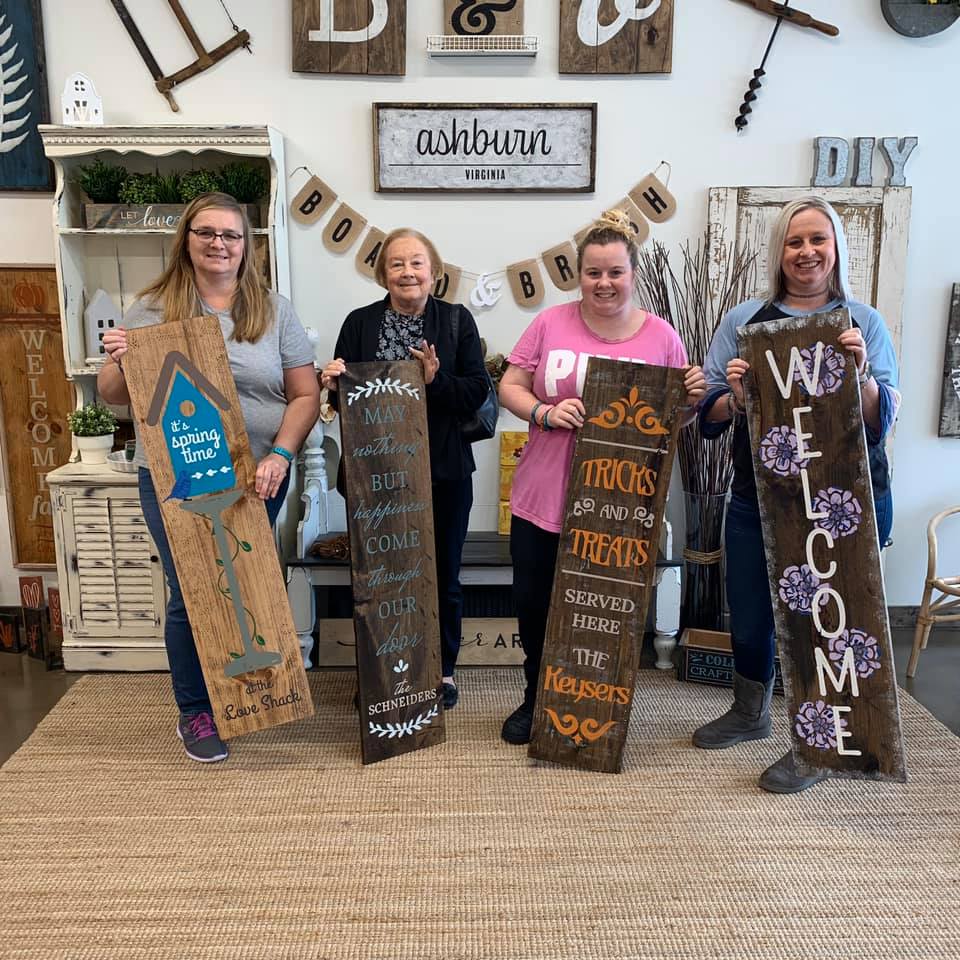 Wisconsin-based Board & Brush has more than 270 locations, where guests attend workshops focusing on such items as signs, trays, and even novelties like clocks and coat racks — all adorned with stenciled messages and images. 
Studio instructors and assistants gather the raw materials and tools before the workshop and  guide customers through every step — distressing, sanding and assembling the wood boards, as well as staining, stenciling and painting them and then installing hardware and hangers. A standard workshop is about three hours and costs $68 per person. There are also shorter workshops geared for families with children.  Regardless, the end results are highly personalized and practical products that happy customers tote home the same day.
The Ashburn Board & Brush — which was named Best Specialty Store/Gifts in the Best of Ashburn 2020 survey — is owned by Andy and Raquel Gladieux. The couple began searching for a Loudoun location after customers at their Fairfax and Fredericksburg Board & Brush stores kept asking them to open a shop closer to their homes. The Aldie couple, both U.S. Navy retirees, studied their customer demographics, which led them directly to Ashburn.
"I love the sense of community in Ashburn, and the diversity and growth of this area makes it very welcoming for new businesses," said Andy Gladieux, who works for a defense contractor by day while his wife focuses on the daily operations of their three locations.
Raquel Gladieux fell in love with the Board & Brush concept through her own "happy accident" on Thanksgiving 2016, when she noticed a beautiful wood sign at her mother-in-law's house in Ohio.
"Once I learned it had been made by my sister-in-law at a local studio, I had to try it myself," said Gladieux, who went to the local studio the very next day to make her first wood project — a monogrammed sign stenciled with her wedding anniversary date. 
"Our stenciled messages are encouraging and family-related," Gladieux said. "Customers create projects that celebrate the milestones in their lives — birthdays, anniversaries, and graduations. These products have real sensory and emotional appeal."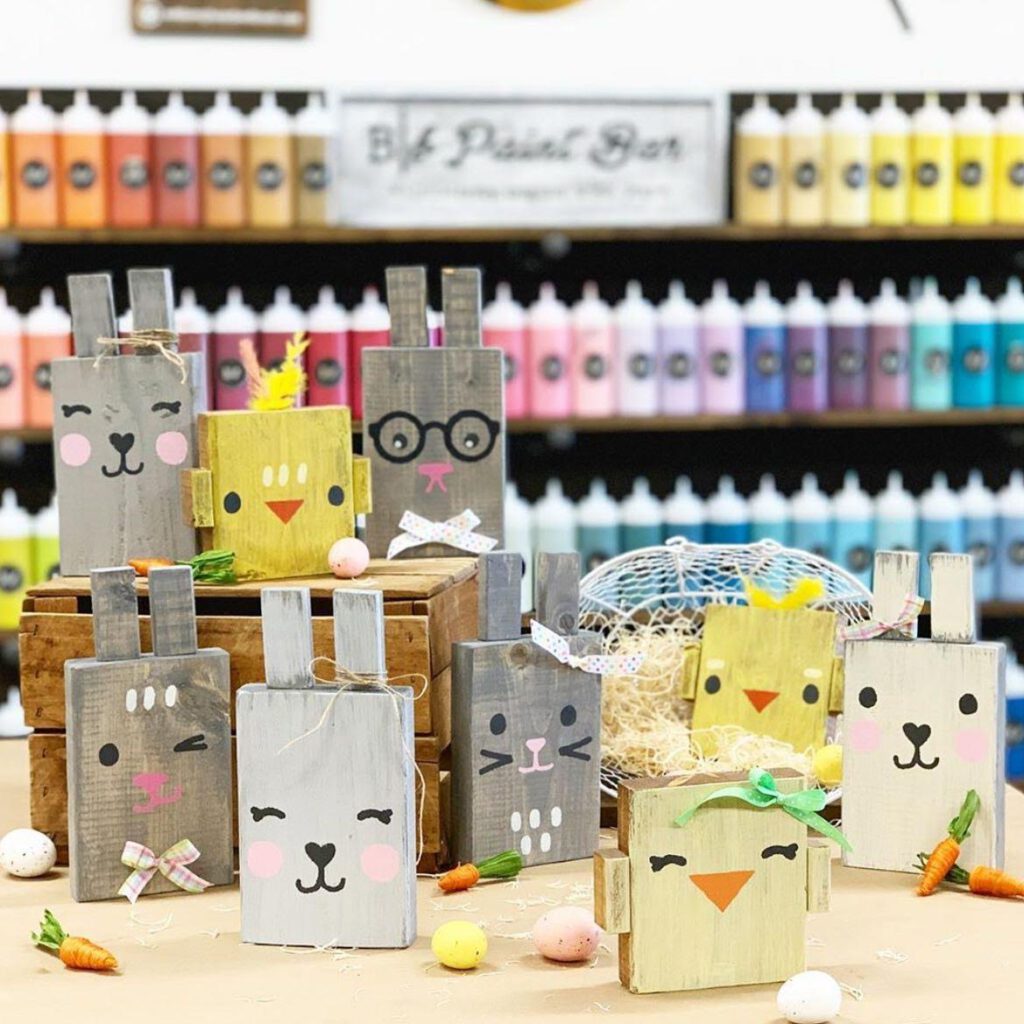 Tamara Gray is one of the instructors at the Ashburn Board & Brush. She believes that the brand offers something that other, similar "sip and create" spaces don't.
"Our projects — signs, boxes, trays, coat racks, clocks — are functional," she said. "I go to lots of sip and paint events, and I always have a great time, but those paintings stay in my basement. Every item I've ever made at Board & Brush is used in my home or the home of the person I've given it to as a gift."
Before the coronavirus paused Board & Brush's premiere year in Ashburn, business was good. The studio was actively networking with local companies, churches, school parent-teacher organizations, youth groups and sports teams for fundraising and team-building events that give back to the community. The Ashburn location also has become a popular venue for bridal showers, birthdays, date nights, and even Scout merit badge events. 
But the workshop's most popular event? Definitely "Mimosa Sundays."
Jenna Myers, who celebrated her most recent birthday at Board & Brush in Ashburn, can't wait to get back in the studio.
"I want to make the double-sided porch sign," she said. "These projects aren't things you can buy at HomeGoods. They are personal to you and are specifically unique for your house."
Jill Devine is a freelance writer who lives in Loudoun County. When not writing, she enjoys her job as a kindergarten teaching assistant for Loudoun County Public Schools.