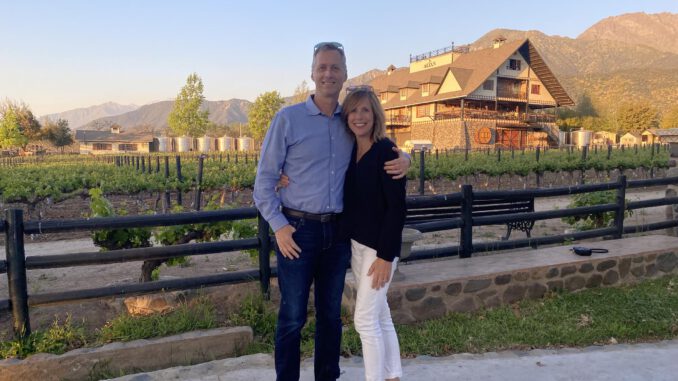 BUSINESS AND PLEASURE
By Chris Wadsworth 
Sean Mooney came home from work one day and told his wife, Alison, that he had a business trip coming up to South America. He wondered whether she would like to join him. She had her bags packed before he finished his question. 
OK, that's an exaggeration, but the Ashburn couple, who live in the Village of Waxpool community, were eager to combine a little family time along with the work stuff. Their daughter, Lauren, was able to get time off work and joined mom and dad on the adventure. The fact that Lauren is fluent in Spanish was a bonus. 
So, in October, the Mooneys flew to Atlanta and then connected to a nearly nine-hour flight to Santiago, Chile. Over the next week, they spent time in Chile and then headed north to Peru. Ashburn Magazine asked Alison Mooney to share some of her favorite photos and memories. 
===============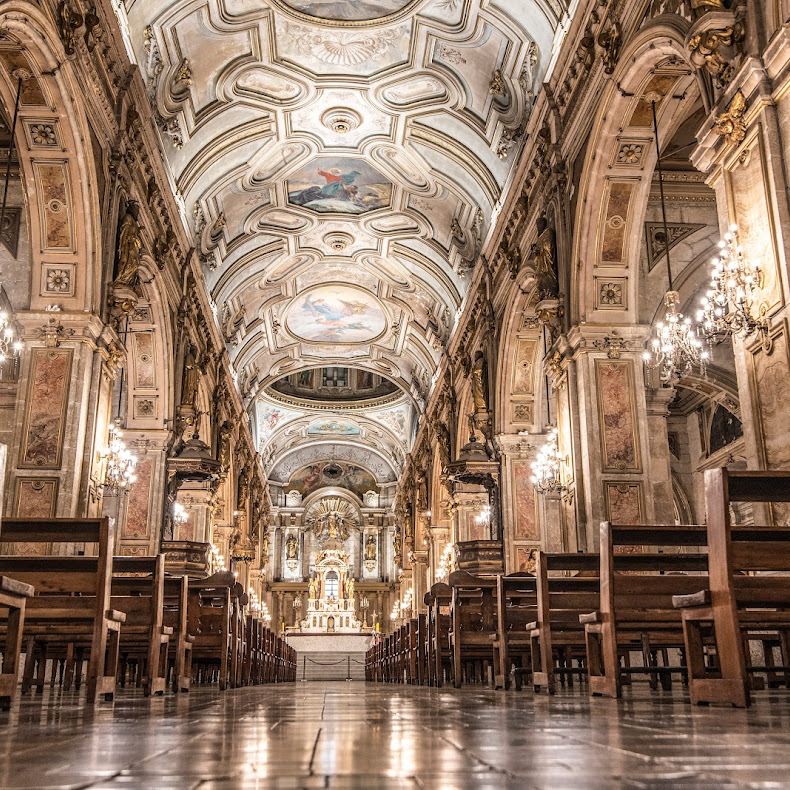 "This was the Santiago Metropolitan Cathedral in Santiago, Chile. Construction began on it in 1753 and was finished in 1799. It was just beautiful. There was a Mass going on and Lauren and I jumped in and participated in the service. It helped that we are Catholic, but all are welcome. The incense and the singing and just the age of the cathedral. It doesn't make any difference what kind of house of worship it is – just to see these incredible places where people gave their life's work – their blood, sweat and tears – in order to build them. It was awe-inspiring." 
===============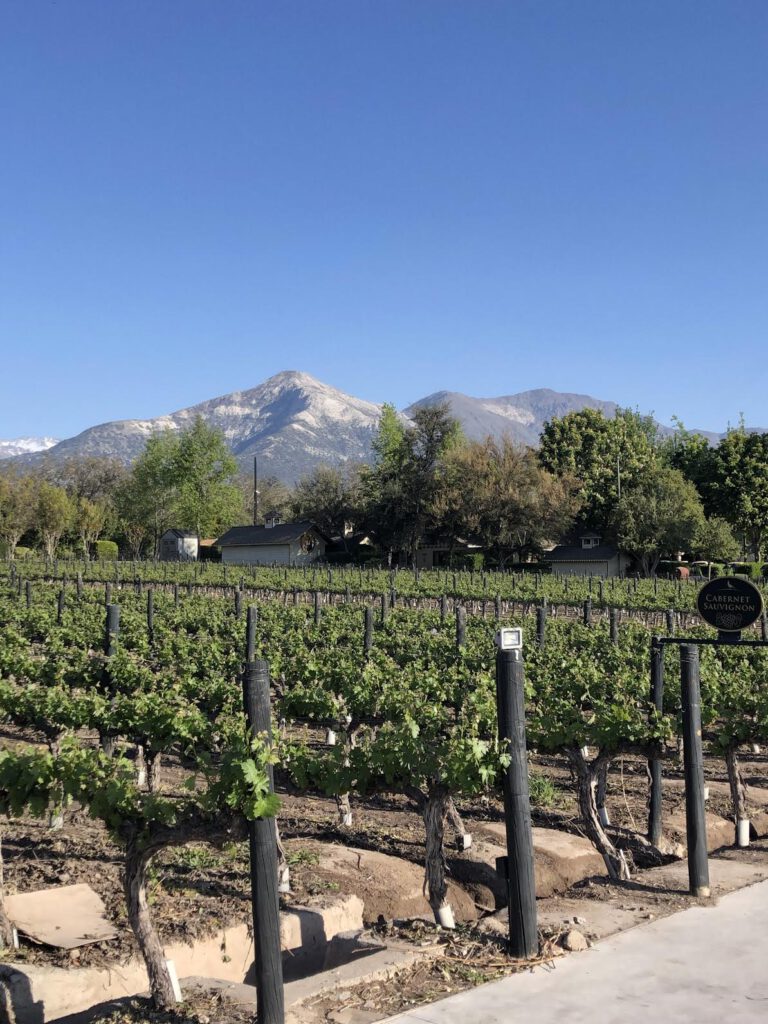 "We had a private driver take us from Santiago to the nearby Alyan Winery. There were several groups there, but we were the only English speakers, so they had someone translate for us. We sampled at least six – maybe eight – red, white and rosés. We toured the vineyard, the variety garden, fermentation tanks and barrel aging cellar. We also saw a helicopter pad they had for the rich and famous who come to sample the wines. It was a sunset tasting and then they brought out dinner for all of us. We brought home four bottles of wine from there. It was a five-star experience." 
===============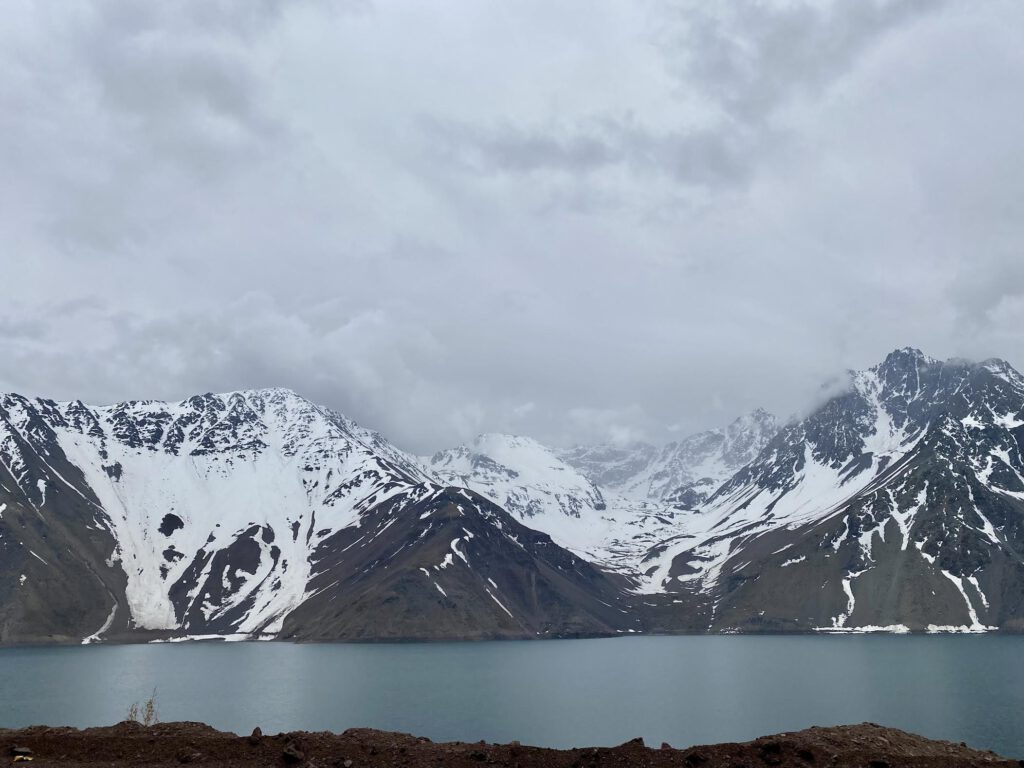 "We went on a group tour to Cajon del Maipo in Chile. It's a dramatic gorge with the snowcapped Andes mountains on the horizon. It was windy and cold that day, and the color of the water was a striking blue green against the gray sky. The drive was a bit treacherous, and it began to snow as we were leaving.  The icing on the cake was a stop at a very unassuming adobe home sitting alone on the side of the mountain. They served us piping hot empanadas and amazing red wine. Very memorable." 
===============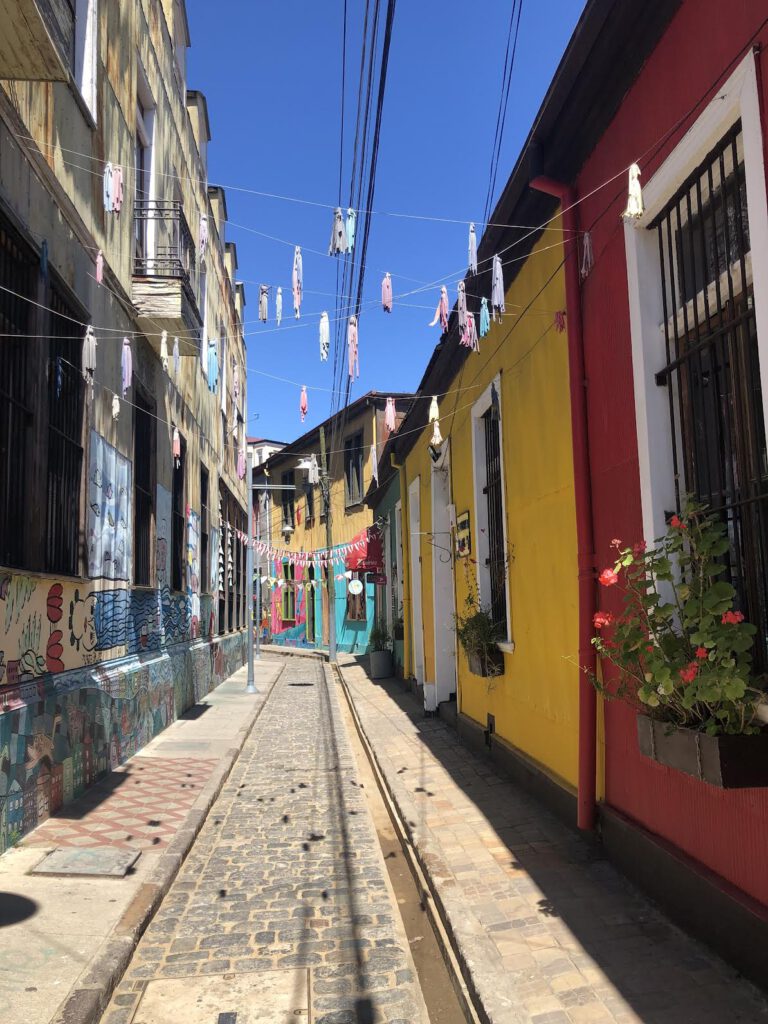 "Valparaiso, Chile, feels a lot like a Bohemian artist community. It's also a major port city on the Pacific Ocean. There are street artists and artwork everywhere on almost every surface. There were painted walls and painted steps, and people travel from all over the world to see it. The buildings are so colorful and there are tiny, winding cobblestone streets with shops and cafés. It's romantic and fantasy-like." 
===============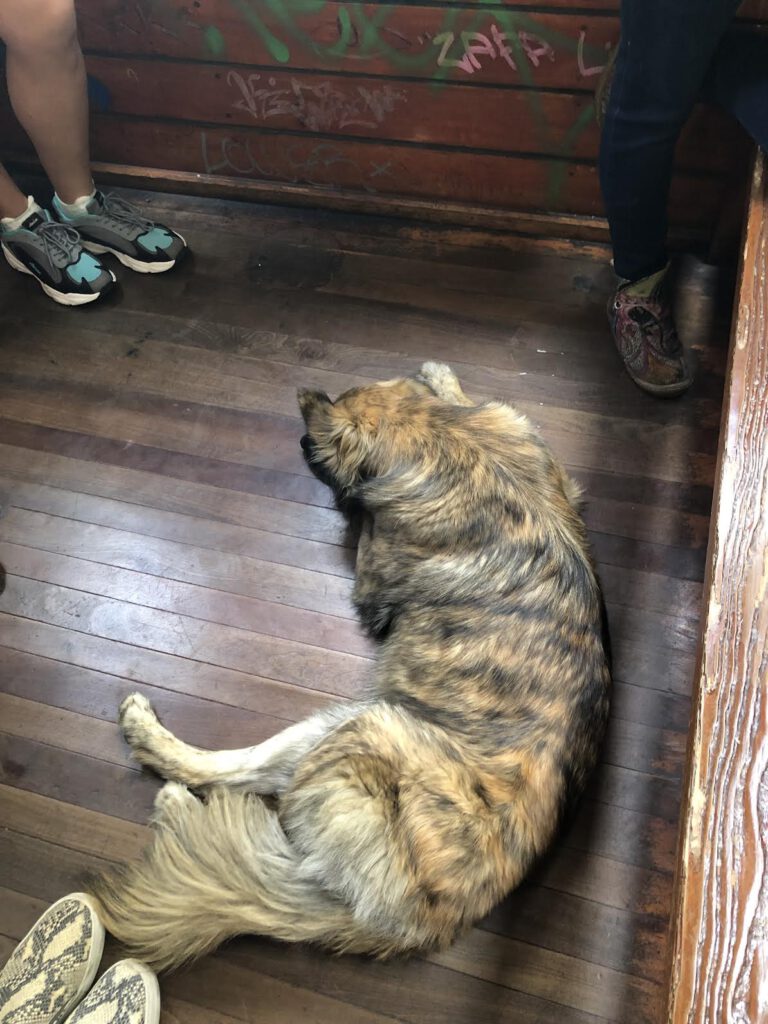 "Street dogs are loved by all. Everyone takes care of all the stray dogs who just roam around in Valparaiso. People leave water and food outside and even let the dogs into their homes at night. They are everyone's dogs. This dog joined us for the whole day as we walked around sightseeing. He literally jumped on this tiny cable car when we went riding up the mountain. Isn't that sweet?" 
===============
"The terraced hillsides are part of a farming technique in Peru that comes from the Incan era –  and these techniques are still used today. It was really stunning to see. Someone thought, 'If we could only level out the mountain, we could prevent erosion and we could improve irrigation and we could grow things.' I read an article that said the Incas actually grew more food than they could eat." 
===============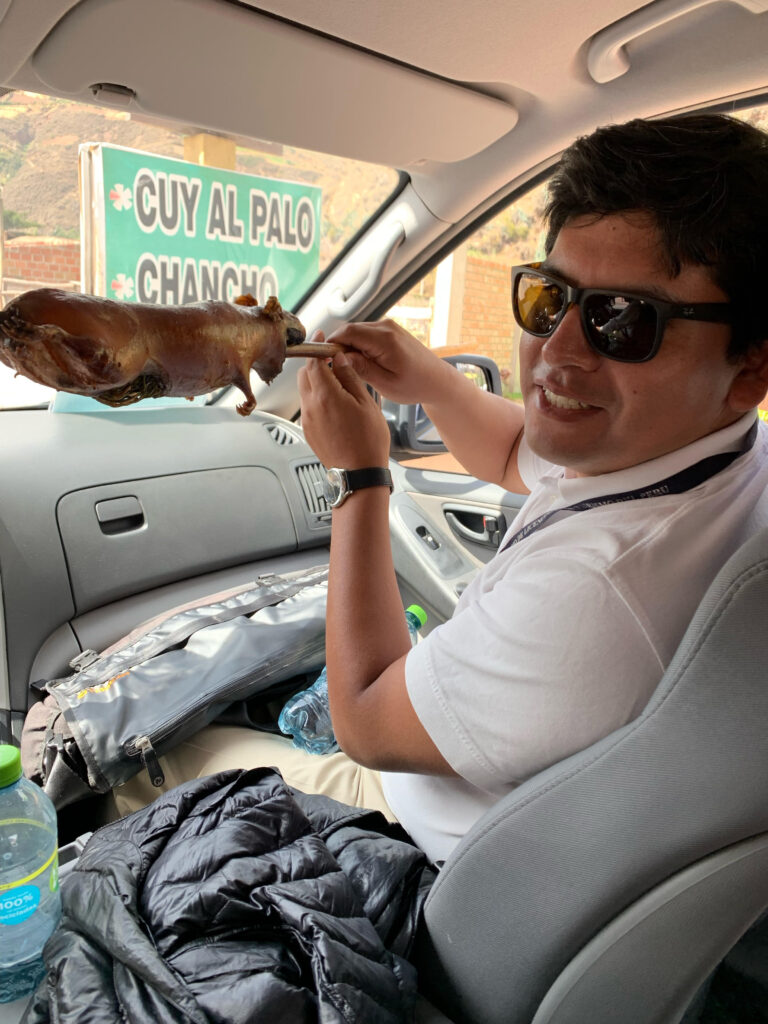 "That's our tour guide in the picture. We were driving in a very remote town in the Sacred Valley outside Cusco, Peru, and our guide saw a friend by the side of the road selling roasted guinea pigs on sticks. It's a local delicacy. Eeeek. She had a whole basket of them. That's what