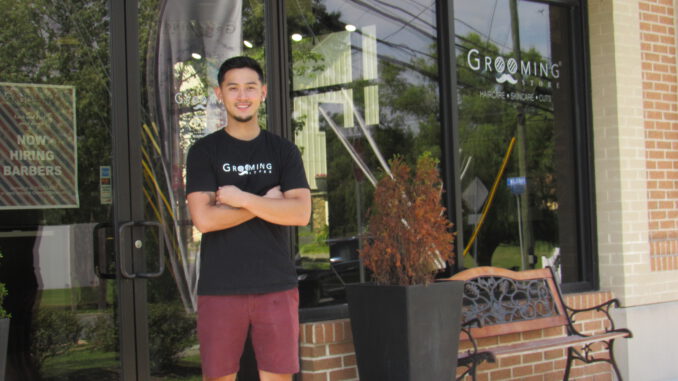 A CUT ABOVE
By Jill Devine
Ashburn barber Ethan Del Hierro knows the mirror never lies, so it's the first place he looks when he's finished with a cut.
"I wait for the smile," said Del Hierro, the new owner of the Grooming Store on Ashburn Road. "When a man gives that sideways glance toward the mirror and flashes a smile, I know I did my job well."
And Del Hierro has generated plenty of those smiles since buying the shop in September. For a young man at the tender age of 20, it's quite an undertaking.
Located in the heart of Old Ashburn, the Grooming Store has been a one-stop location for men's luxury grooming services and supplies since it opened in 2018.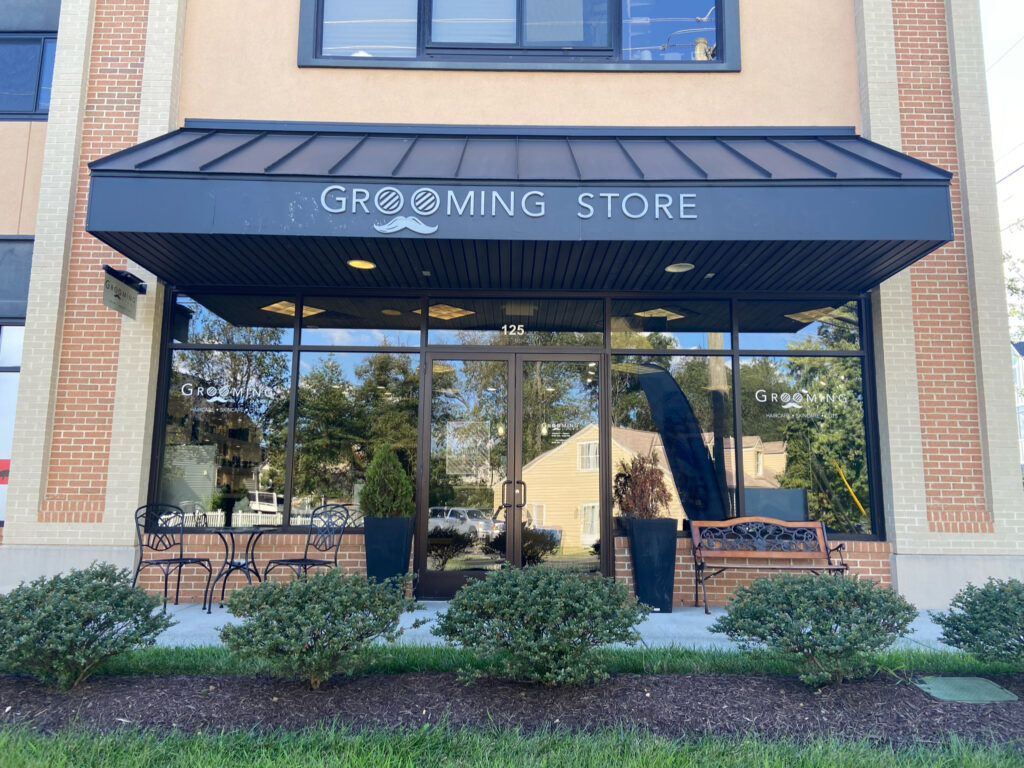 Del Hierro's chairs are filled with a steady stream of customers, many seeking his specialty — trendy cuts featuring fades and patterns cut into the canvas that is a head of hair. But fear not — he gives traditional scissor cuts and children's cuts as well.
"The best cut is the one that looks like what the customer asks for," said Del Hierro.
Notable patrons include D.C. United soccer player Kevin Paredes, syndicated comedian and radio personality Chris Paul, and several former and current Washington Football Team players, including Morgan Moses and Jason Hatcher.
Del Hierro, who lives in the Brambleton Town Center, admits that his rapid path to proprietorship is not typical. It's certainly not something he would have predicted even a few years ago.
In June 2019, he was graduating from Rock Ridge High School, excited to forge his path as a soccer recruit and business major at James Madison University. He was about to show the coaches his talents in the spring 2020 season when the coronavirus pandemic hit, and Del Hierro's plans — and his life — turned in a different direction. 
"I was back at home taking online classes," Del Hierro said. "My passion for soccer was starting to fade." 
When pandemic restrictions eased, he wanted to get out of the house and find a part-time job. That led him to the Grooming Store, then owned by One Loudoun resident Kevin Morris.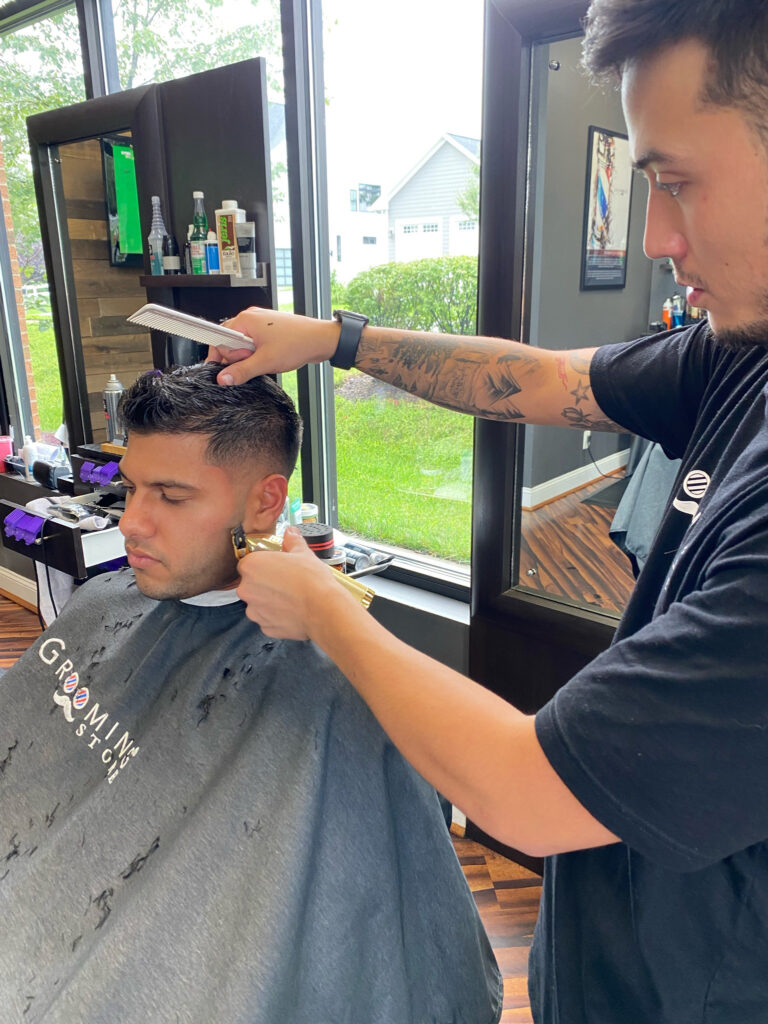 Morris hired Del Hierro in November 2020 as an apprentice barber. Del Hierro completed requirements for state licensure at the shop, but he had already mastered shears and clippers years before. 
"I wanted the top of my hair to be longer, with a medium-length shadow fade that transitioned into a comb-over on the top, which I would style up with pomade. It was pretty trendy at the time," Del Hierro said. "But my parents took me to barbers who never listened to what I wanted, and I was never happy with those haircuts."
So, when he was a high school freshman, Del Hierro watched a few YouTube tutorials, borrowed his dad's clippers, and cut his own hair for the first time.
He describes that first cut as "perfect," because he did it himself, even though it took more than an hour while struggling to see in the mirror.
"I'll never forget how great I felt when the cafeteria lady at school actually stopped what she was doing that day to tell me how sharp my hair looked," he said. 
She was not the only one to notice Del Hierro's talents. Friends started asking for cuts so often that he set up an impromptu shop, first in his garage and then his bedroom, even buying a used barber chair online. That Christmas, the only gifts he asked for were barber shears, clippers and tools.
"I was just a kid having fun, but it was starting to become kind of serious before I left for college," Del Hierro said. "I remember going to Homecoming and looking around the room. I had cut almost every guy's hair."
Good grooming is powerful, he added. "If you look in the mirror and feel good about yourself, you go about your day with positive energy that reflects on everyone you meet."
That outlook caused Morris to take Del Hierro seriously when he offered to buy the store. The young man purchased the store with assistance from his father, who helped with paperwork and financing but isn't involved in the day-to-day business. Today, Del Hierro has three more barbers working for him at The Grooming Store, as well as a receptionist.
"It was a long process, and I'm still learning," Del Hierro said. 
Del Hierro's popularity as a new barber was obvious right away. "All these young guys were coming in and waiting for Ethan's chair," Morris said.
One of Del Hierro's most loyal customers is 20-year-old Bo Blacken, who lives in Brambleton. The two have been friends since high school.
Blacken currently sports a bleached mid-fade with a zig-zag design created with precision trimmers. But he has experimented with lots of looks over the years.
"I used to have a mohawk, and then 8-inch dreadlocks that I dyed blonde," he said. "Ethan is the one who cut those off for me, but he's also trimmed in lots of designs and fades." 
Blacken tries to visit the shop every two to three weeks for a hair or beard trim. "It's a way of expressing myself. I don't want to be that guy in the room who doesn't have a great haircut."  
Morris — who has a second Grooming Store in Arlington and is working to franchise the business — created the concept in response to a nationwide demand for upscale men's grooming services. He says he knows he can trust Del Hierro to represent the nascent brand. 
While college is temporarily on hold, the young barber plans to eventually finish his degree in hopes of owning multiple Grooming Store locations in the future. 
So, what's the latest trend in men's hairstyles? Del Hierro and Blacken shared a quick glance and laughed.
"Let's just say, the mullet is back," Del Hierro said. And not just any mullet, but a mohawk mullet that involves multiple fades and designs up the sides. Good thing Ashburn has an expert who can deliver.
 Jill Devine is a freelance writer and former magazine editor from Loudoun County who writes for a variety of Virginia publications.
IF YOU GO
What: The Grooming Store
Where: 20915 Ashburn Road, Ashburn
When: Tuesdays-Fridays, noon to 7 p.m.; Saturdays, 9 a.m. to 3 p.m.
Info: (703) 723-3377 or groomingstore.com