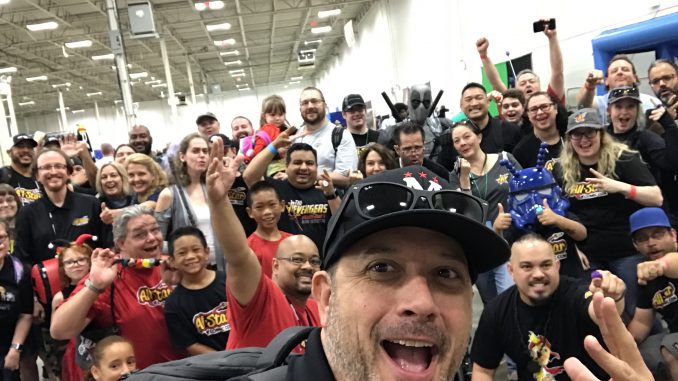 By Mike Conway
Every community needs its local watering holes — bars and taverns where friends hang out and "everybody knows your name." That reference to the popular TV show "Cheers" is intentional because when you ask people about the Ashburn Pub, they bring up "Cheers" over and over again.
"It's all the friends. They're family," said Ashburn resident Tom Carroll, a longtime regular at the Pub where everyone calls him "Tango." "Everyone knows you. They know your business. They know what you do."
The Ashburn Pub opened in 1995 in the Ashburn Village Shopping Center and has been serving cold beers and hot food to local neighbors ever since. It came under new ownership in 2013, when longtime bartender Kevin Bednarz had enough sweat equity in the Pub that he decided to buy out the previous owner.
Bednarz loves being the "Sam Malone" to his crazy mix of regulars who stream in each afternoon.
"All the Redskins coaches come here, the Redskins scouts … we have blue-collar, rednecks, DEA [agents], government workers," Bednarz said in his rapid-fire way of talking. "I know right now there are two multi-millionaires sitting at the bar. I know it for a fact."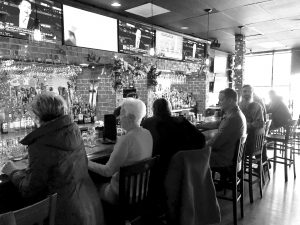 But being a pub owner isn't all mixing drinks and talking sports. There was real work to be done when Bednarz first bought the bar.
"I cleaned it up. It's gone through two remodels, a new menu. It was kind of like a bar rescue," Bednarz said. "It was a new era, a new time. And sales went up like 30 percent."
Despite being a corner bar, Bednarz speaks with a business acumen you're more likely to hear in a boardroom. When asked about the secret to his bar's success, he quickly rattles off his formula: "clean," "functional" and "relevant."
"When I did the first remodel, I made sure the bathrooms were super clean — because women, right. They say if the bathroom's not clean, then the kitchen isn't clean," he said. "Functional means if something is broken, you've got to fix it. I went out to a place last night where one of the TVs was broken and it's been broken for two months."
Finally, there's "relevant." Bednarz says he has found great success using social media to reach his regulars as well as new customers — but it takes some time and sophistication.
"People think they can run an ad on Facebook and show a picture of a burger — no!" said Bednarz. "I'll stay up until 3 in the morning messaging all 300 people who liked my post on the Pub's page and I'll engage with them."
With that type of dedication and time commitment, it's tough to imagine that the Ashburn Pub is just one of several businesses with which Bednarz is involved.
His other passion is art. He grew up in upstate New York and went to college in Buffalo. He had his own art design business for awhile and has kept his hand in ever since. His specialties are murals and hand-drawn artwork for businesses. Some of his talent is on display at the Ashburn Pub.
"Since I was a kid — Star Wars, Marvel, DC, Batman comic books — that's probably where I learned to read and where I learned to draw," he said. "And that is a thread that has stayed with me my whole life."
So in 2015, Bednarz teamed up with Ashburn resident Rob Kaylin to open Comic Logic, a quintessential neighborhood comic shop, also in the Ashburn Village Shopping Center. Row upon row of shelves are filled with colorful comic books and graphic novels featuring superheroes, zombies, aliens and more.
"Kevin is an interesting person," said Michael McNutt, one of Bednarz' good friends. "He's a restauranteur, entrepreneur, and jack-of-all-trades, but more than that, he has a motor that keeps going."
In his newest endeavor, Bednarz partnered with McNutt to create the All Star Comic Con in 2018. The weekend-long convention in Northern Virginia features comic book vendors, celebrity guests and artists, plus gaming, toys, pop culture and more.
"Our first year, we saw about 3,000 people. This year we are expecting to double that," Bednarz said about the 2019 event, June 7-9 at the Sheraton Hotel in Tysons Corner.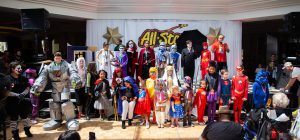 From popular bar to comic books to putting on an event for thousands of people — when a local businessman has so many proverbial irons in the fire, there's only one logical question: What's next?
"Well, I've always had a dream of opening a second pub in Purcellville," Bednarz said with a wink. "We'll see if we can make that happen."
—Mike Conway is a freelance writer and Loudoun county resident who has previously written for Northern Virginia magazine.