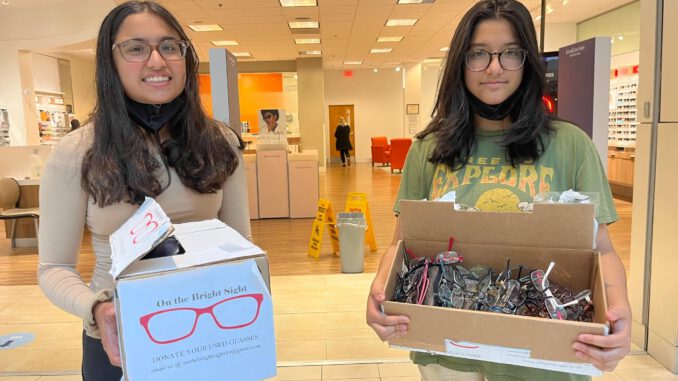 A CLEAR VISION
By Chris Wadsworth
Sometimes a whole lot of good can come from a little misfortune. That's the simple story behind two Ashburn girls and the good deed they've been doing for several years now. 
It all started back in 2018, when Ria Kaith was on an eight-day cruise in the Caribbean with her family.
"I broke my glasses on the first day of the trip. I don't remember how, but the side of them broke off," said Ria, now 16. "My vision is pretty bad, and I didn't have a back-up pair. I was pretty agitated."
After the experience, it dawned on Ria that what was a minor annoyance for her could be a really big deal to others – especially people in poorer communities and developing nations where eyecare and eyeglasses may be more difficult to come by. 
So, in 2019 Ria and her sister, Siya, started a project called On the Bright Sight. Its goal is to collect used and unwanted glasses that might otherwise be thrown away and donate them to help others.
Ria and Siya – now a senior and a freshman at Broad Run High School, respectively – partnered with the folks at Lenscrafters, the national retail eyewear chain. Since 1988, Lenscrafters has had a program known as OneSight that accepts used prescription eyeglasses, cleans and refurbishes them and gets them into the hands – and onto the faces – of people in need.
The girls created a logo and decorated collection boxes and placed them around Ashburn and beyond.
"We have a box in our old karate school that we used to attend. We have a box in the place where we get our hair cut. There's a box at our music teacher's. We have boxes everywhere," said Siya, 14. "Our aunt works in a hospital, and she has a box at the hospital so people can donate there. That's in New Jersey."
The girls' mother – Mamta Kaith – is both proud and touched by the On the Bright Sight project. 
"They didn't want any help from me," Kaith recalled. "They wanted to design the logo. They were going to come up with a mission [statement]. I grew up with glasses … and I didn't have the privilege of having a second pair of glasses. So, if they broke, I had to live with that. So, I was very happy when they developed this idea." 
Since they started their project three years ago, the girls have collected more than 400 pairs of glasses that OneSight has given to people across the United States as well as overseas. 
"I feel really proud that I'm able to help. It's all about helping people and at the end of the day, that's what we want to do," Siya said.
"I feel good about the 400, but I also feel like we can do more," Ria added. "It's not done yet. This is just the beginning."
College is on the horizon for Ria. She's not sure where she will go yet and says she's applying "everywhere." She may study math, or maybe economics, or possibly even education. She tutors other students in her free time. 
But that doesn't mean On the Bright Sight will disappear. Siya plans to keep collecting eyeglasses throughout her high school years, and Ria plans to start a similar program on her future college campus. 
"I can impact more people and when I go to college," Ria said. "I'm sure lots of college students wear contacts or glasses, and I am hoping they can … help with the cause."
WANT TO HELP
To support On the Bright Sight, host a donation box in your workplace, or donate eyeglasses, send an email to: Onthebrightsight19@gmail.com.