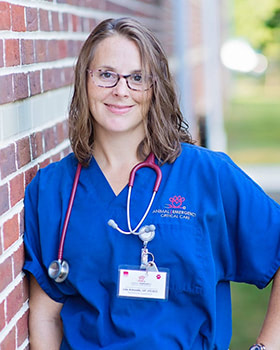 A local animal specialist is in the running to win the country's top category title in the sixth annual American Humane Hero Veterinarian and Hero Veterinary Nurse Awards.
Following a review of more than 250 nominations from animal lovers across the country, a blue-ribbon judging panel of veterinary professionals and animal care experts selected the country's top 10 finalists, including veterinary nurse Julie Antonellis of VCA Animal Emergency and Critical Care in The LifeCenter in Leesburg.
Pet owners and animal lovers alike are invited to visit www.herovetawards.org every day between now and Aug. 8 at noon PT to vote for 2019's top American Hero Veterinarian and American Hero Veterinary Nurse.
According to the nomination, Julie Antonellis is a role model in her field, with a passion for emergency critical care that she shares with her team and the community.
In her decades of work as an LVT and veterinary technician specialist in emergency critical care, Julie has been an advocate for her patients and skillfully cares for those who are critically ill. She has served as a technician and assistant supervisor for over 10 years.
Julie has provided many continuing education events to the referring community of her hospital and is often requested by name. In 2018, she was appointed as the Northern Virginia Regional Director of Virginia Association of LVTs. Julie was also appointed by ACVECCT as a mentor for those seeking to obtain their Veterinary Technician Specialist credential in Emergency Critical Care. Later in 2018, she joined Penn Foster as an adjunct instructor for their veterinary technician program.
Her passion continues as she coordinates 11 student technicians' learning experience by organizing study groups, online article review, and observation hours with other veterinary specialties. She recently submitted a Critical Care Boot Camp proposal to immerse primary care veterinarian employees in critical care nursing training, the goal being to create opportunity to save lives outside of the ER/CC setting by educating DVM care teams.
Winners will be flown to Los Angeles to be honored on Oct. 5 as part of the ninth annual American Humane Hero Dog Awards. The Hero Dog Awards will air nationwide as a two-hour special on Hallmark Channel this fall.
"These 10 finalists are inspiring examples of the veterinary community," said Tara Bidgood, DVM, PhD, DACVCP, executive director, Zoetis Petcare Veterinary Professional Services. "Congratulations to these extraordinary finalists and all our veterinary professionals who so work hard every day to protect and give better, healthier lives to the beloved animal members of our families."
To read each of the finalists' stories, as told by the people who nominated them, and to vote daily for one of the five finalists in each of the American Hero Veterinarian and American Hero Veterinary Nurse categories, visit www.herovetawards.org.