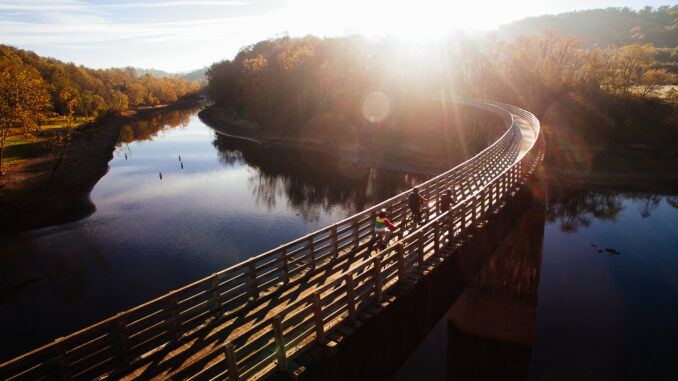 CREEPING ALONG 
By Emily Cook
Patrick McKinney and Kevin Bednarz are long-time pals who take an autumn hiking trip each year with their families. But a few years ago, they added a new element — a bike trip.
So Patrick, Kevin and their gang headed to southwestern Virginia and the iconic Virginia Creeper Trail, a  34-mile-long bike ride that — unbelievably — is largely downhill.
"You're coasting the whole time," said McKinney, a Leesburg resident who grew up in Ashburn and graduated from Broad Run High School. "It's tubing for bikes. You know a lazy river? It's a lazy river for biking. You just ride down and coast and there's a light breeze. It's perfect."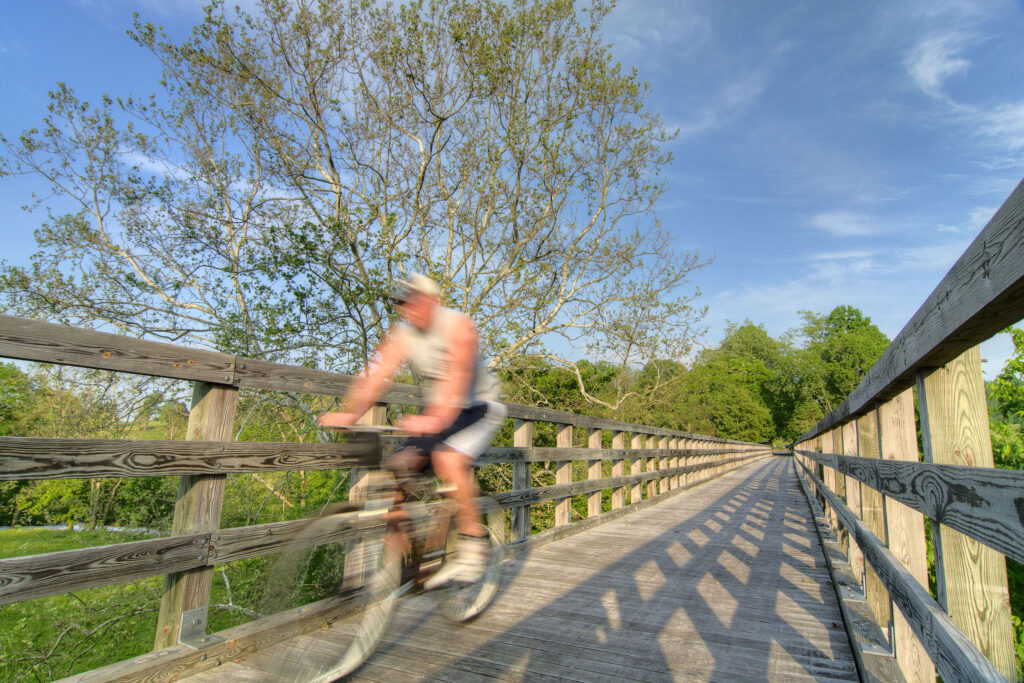 Those who have been fortunate enough to experience the Virginia Creeper Trail have had an adventure that USA Today called one of the top attractions in the state. The route runs through two counties from White Top station at the Virginia-North Carolina border through quaint Damascus and ends at the town of Abingdon. Just a few hours drive from Northern Virginia, this scenic trail is pretty tough to beat.
"There are lookouts. You stop for breaks. It's gorgeous," McKinney said.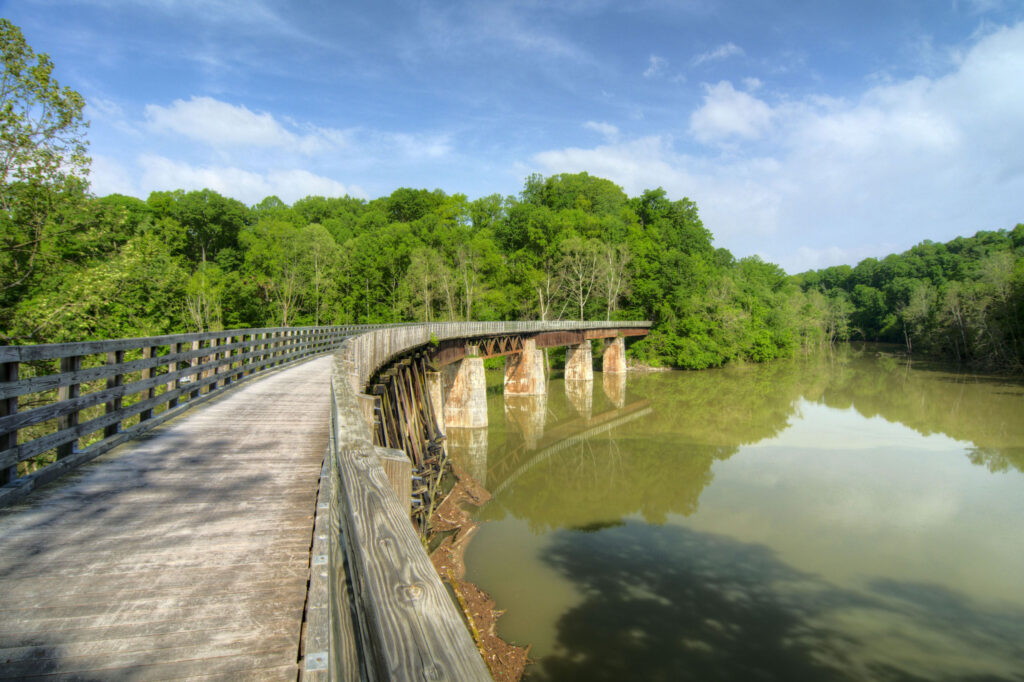 The trail follows a right-of-way created during the westward expansion of railroads during the late 1800s. A group of speculators established the Abingdon Coal and Iron Railroad in the hopes that they could take advantage of the large amount of iron ore in the region. Those plans never materialized, however, and subsequent attempts to use the rail lines for everything from timber transport to passenger trains also proved unsuccessful. After changing hands multiple times, and over many decades, the trestles and bridges were in a state of severe disrepair.
Thankfully, in 1987, the Virginia Creeper Trail was established through an act of Congress and is now considered a National Recreation Trail maintained by the National Park Service, the towns of Abingdon and Damascus, and a group of volunteers known as the "Creeper Keepers."
Lisa Quigley, executive director of the Virginia Creeper Trail Conservancy, said there has always been a bit of confusion about the origin of the name Virginia Creeper. 
"The old rail line that ran from North Carolina into Virginia went through some extraordinary steep inclines and the train had to creep along," Quigley said "But there is an abundance of the actual Virginia creeper vine that covers the mountains and the sides of the railbeds, so it was the perfect name. The train creeped right through Virginia creeper."
Whether you ride the entire length of the trail from Whitetop Station to Abingdon or stop about halfway along at Damascus, you will pass through deep, lush forests, cross roaring rivers and ambling creeks, see open fields and farmland, and traverse up to 47 wooden trestle bridges. Depending upon the age range of the riders in your group, there are various starting and stopping points along the trail, so the length and level of difficulty can be customized to meet your group's abilities. 
"We did a 17-mile section – it was great, especially for the kids who were with us," said Bednarz, owner of the Ashburn Pub. "A great ride." 
Bringing your own bikes is certainly an option. However, a wide range of adventure companies rent bikes and provide drop-off and pick-up service at various points along the trail, making trip planning effortless and allowing you to focus on the experience.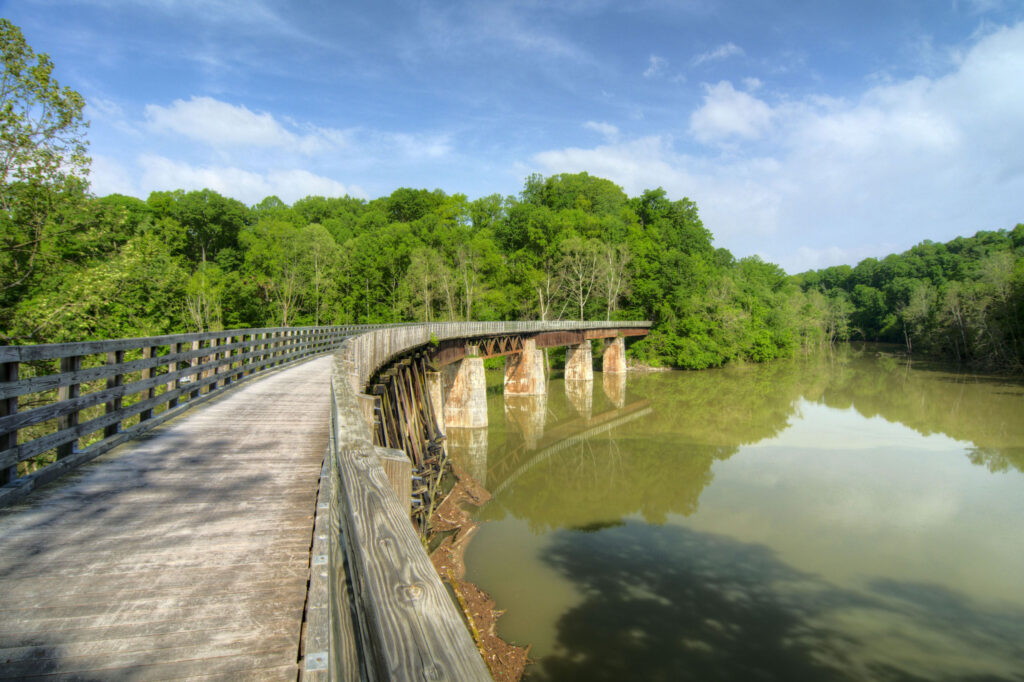 Regardless of the length of your journey, you will see many restored railroad depots and charming, historic small towns. You can also enjoy local restaurants, breweries and ice cream parlors as you pass through. The towns of Abingdon and Damascus, in particular, have a great deal to offer, so many riders choose to begin or end their journeys there as they ride the trail and explore the region.
"I want to do [the Virginia Creeper] again really badly," said McKinney, who is already starting to mull over plans. "Hopefully in the next year or so. It's worth coming back to."
Emily Cook is a freelance writer with a background in communications and public relations. She lives in Loudoun County with her husband and three children. 
For more information on the Virginia Creeper Trail and to plan your trip, start with the Virginia Creeper Trail Conservancy website at vacreepertrail.org.