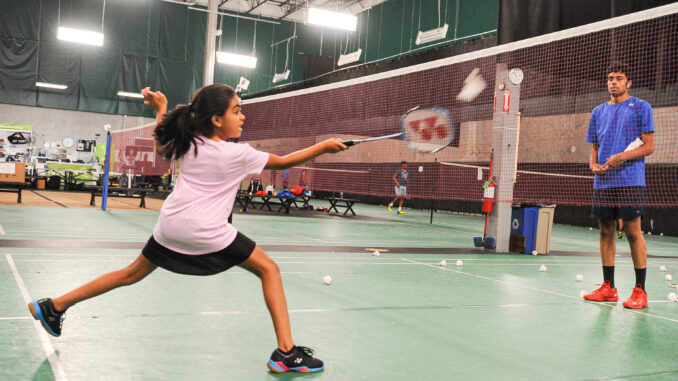 WATCH THE BIRDIE
By Jill Devine
Photos by Astri Wee
Sri Kolla first learned a love for badminton from his parents when the family lived in his native India. He carried that love with him when they moved to the United States when he was about 12 and settled in Ashburn Village.
Now 18 and a graduate of Broad Run High School, Kolla continues to excel at a sport that many Americans see as nothing more than a pastime at a summer picnic.
"I was truly born into badminton. Both of my parents played, and growing up, it was the only sport I ever knew," said Kolla.  He notes that several Loudoun County high schools, including Broad Run, have badminton clubs. "Anyone who questions the seriousness of badminton should just give it a try. It requires a high level of fitness and agility, as well as quick thinking. 
Backyard badminton is the only exposure most people in the United States have to what is actually an intensely competitive sport — one that has been part of the Olympics since 1992. It's pursued professionally by athletes who compete across the globe in tournaments offering millions of dollars in prizes.
And Ashburn is home to the only facility in the Mid-Atlantic that is fully dedicated to badminton recreation and professional-level instruction and competition. It's called the Northern Virginia Badminton Club, in an office park near the W&OD Trail on Guilford Drive. The academy attracts players from around Virginia and nearby states like Pennsylvania and Delaware. Its nine courts stay busy every day and night.
The club — home to the Northern Virginia Badminton Academy — was opened in 2014 by a group of investors who are all badminton enthusiasts. They felt there were no adequate local venues for players, so they decided to create their own and give badminton a home in Northern Virginia.
"There are other facilities that are used for recreation or introductory instruction," said Ashburn resident Shubra Chowdhury, director of the academy. "But we designed this space for professional use, including 30-foot ceilings, Olympic-quality mats and double the number of courts of anyplace else."
Chowdhury, who was born in India, played at the national level there as a state champion before moving to America.
"Badminton is so popular in India that they teach it in elementary school," Chowdhury said. "Playing competitively requires daily training, and that's why it's important to have a dedicated facility."
According to ESPN and the Olympic Channel, badminton is the second most played sport in the world behind soccer. Its roots can be traced back more than 2,000 years to games played in ancient Greece, China and India. The modern version was derived from Poona, a game played by British army officers stationed in India in the 1860s. It became known as badminton in 1873, named after an estate where it was played in Gloucestershire, England. 
Badminton has long been a major sport in most Asian countries and many European countries. Current rankings by the World Badminton Federation show players from countries such as Japan, Denmark, Taiwan, Indonesia, China and England among the sport's most dominant.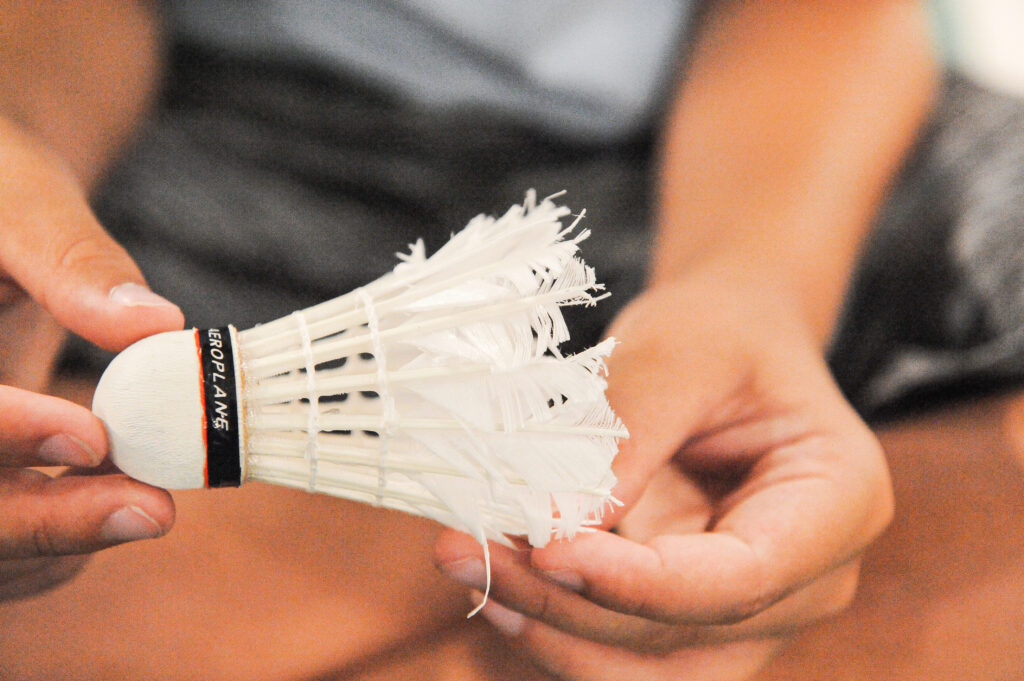 The owners knew Ashburn was a good location to open a center because of its rapid growth and internationally diverse population.
"There was already enough demand for facilities," said Kendrick Liu, the academy's general manager. "We created an environment where athletes with true passion have everything they need to train to meet their full potential, thus elevating badminton within the United States."
The club is home to many retired competitive players who are glad to have a place to keep playing a sport they love, but Liu and Chowdhury's focus is on mainstreaming badminton into the community to grow interest in the sport and train future competitors.
"You don't have to tell anyone in the United States what baseball is, and we want it to be that way with badminton," Chowdhury said. They acknowledge it will take time, so the current focus is on international recruitment of talented coaches and networking with county and state governments to promote badminton through school physical education classes and recreation center programs.
Kolla is one of only a handful of players in the region who play badminton internationally. He recently returned from Guatemala, where he reached the quarterfinals in both men's doubles and mixed events at the Pan Am Adult Championship this spring. He also played in Russia in 2019 in the World Junior Championship and was regularly listed in the top 5% of players in the U.S. Juniors.
"I really love the travel with tournaments," Kolla said. "It's like going on a fun vacation, but it's also great to meet people from all over the world. We get to meet, watch and play with the top players in the sport."
Sanchita Pandey, 19, a Dominion High School graduate who lives in Potomac Falls, plays competitive badminton and trains at the Northern Virginia Badminton Club. She held the number-one girls' spot for U.S. Juniors for two years and her team won a silver medal at the Pan Am Adult Championship in February 2020 in Brazil. She is sponsored by the sports equipment company Yonex.
"I've played in lots of places across the country and world," Pandey said. "Honestly, the Northern Virginia Badminton Club facilities in Ashburn are as good or better than any I've seen anywhere, and they are definitely the best on the East Coast."
Jill Devine is a freelance writer and former magazine editor from Loudoun County who writes for a variety of Virginia publications.