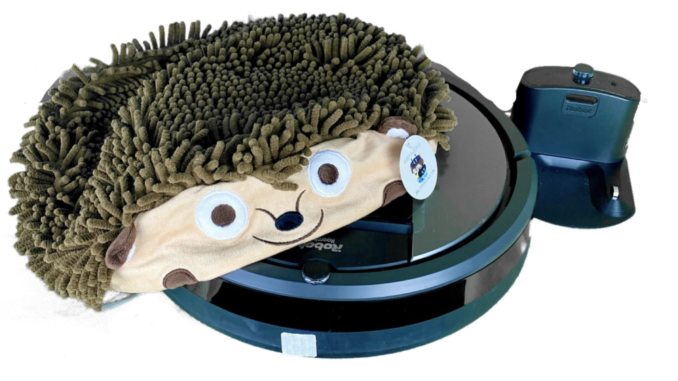 ROBOT PALS  
By Jill Devine
Francesca Maniff was relaxing on her living room sofa in early 2019 when she had a "lightbulb" moment that changed her life. Her pup, Chewey, a Maltese-Yorkshire terrier mix, had climbed on her Roomba vacuum cleaner and accidentally turned it on. Chewey sat down on it and hung on for dear life, and his little body covered the whole top of the device. Maniff could not stop laughing while the furry vacuum made its way across the room.
That's when inspiration struck.
Maniff and her husband, Jonathan, were living in Los Angeles at the time, and they were big fans of the television show "Shark Tank."
"We were always thinking of fun ways to create a 'this' to do 'that,'" said Maniff, but then they would learn the product they were imagining already existed. But after seeing Chewey's big ride, she thought — "What if I make fabric animal covers for Roombas?"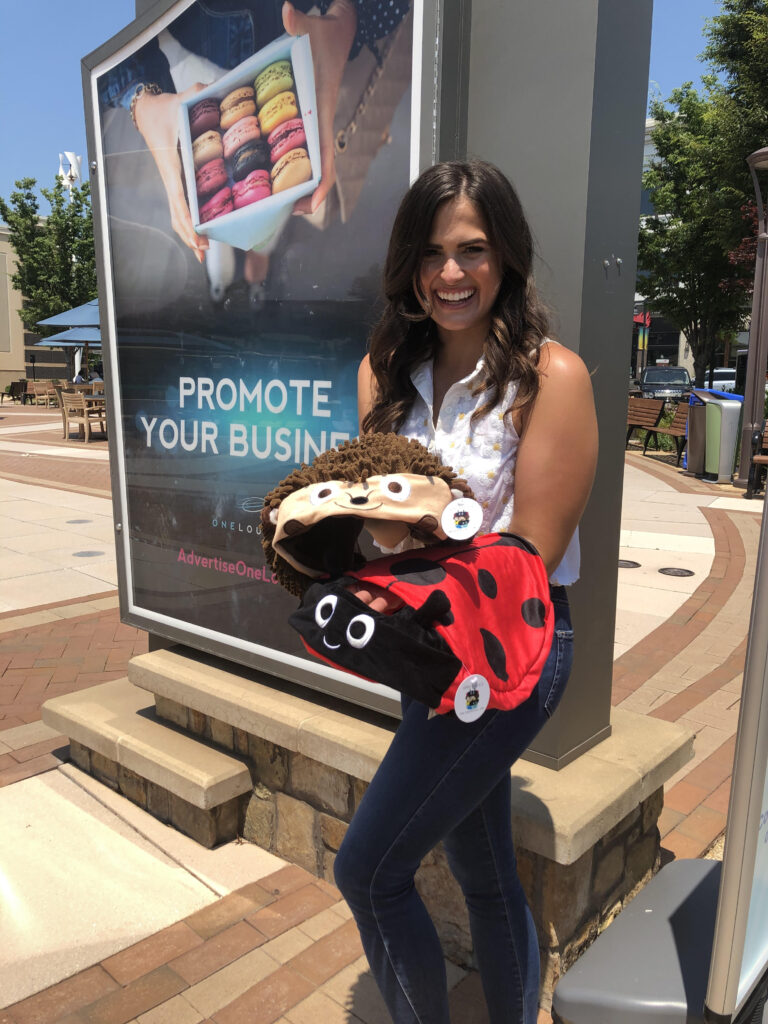 Maniff and her husband discussed it, and within a year, she had made a career shift from part-time television actress, tutor and dog walker to full-time entrepreneur as founder and owner of Robo Rascals, a company that makes and sells Roomba covers designed to make vacuuming more fun. She and her husband also moved to Ashburn during that time.
After searching online, Maniff found no mention of Roomba covers. "I couldn't believe no one else was already doing this," she said. "I saw decals and stickers that make Roombas look like robots and that sort of thing, but no actual covers." She had to act quickly.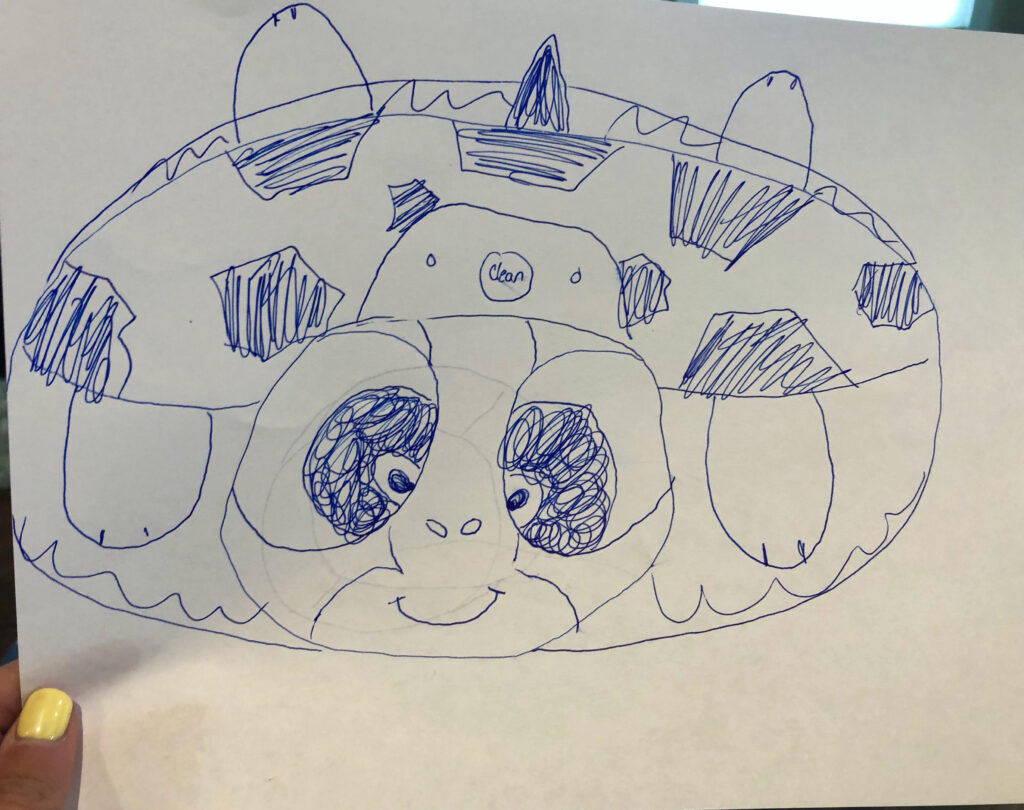 Working with the round shape of the Roomba, her first idea was to create a turtle cover. Cutting apart stuffed animals she bought at Goodwill, Maniff fashioned her first prototype, taping fabric parts of a toy alligator to a Roomba and wedging a small football under the fur to give it height. She quickly realized that extra appendages or stuffing would interfere with the vacuum's functionality, so she adjusted her model and initial sketches to design trim, sleek covers.
Maniff officially founded Robo Rascals in May 2019 and secured a utility patent to fully protect the functionality of her product. The covers aren't just cute — they help protect walls and furniture from damage by the robot vacuums and even dull the sound of the motor. 
"I then jumped down the Google rabbit hole and searched online for stuffed animal manufacturers," Maniff said.  After a few challenging experiences and valuable lessons learned, she teamed up with a company based in the New England area that could make the quantity of items she needed.
The result of Maniff's efforts is a line of soft, adjustable, ventilated covers designed to fit every series of iRobot's round Roomba vacuum cleaners. Buyers can choose from Tidy the Turtle, Hector the Hedgehog, Betsy the Bee, and Lucy the Ladybug. The newest release for holiday purchases is a reindeer with a red nose that lights up.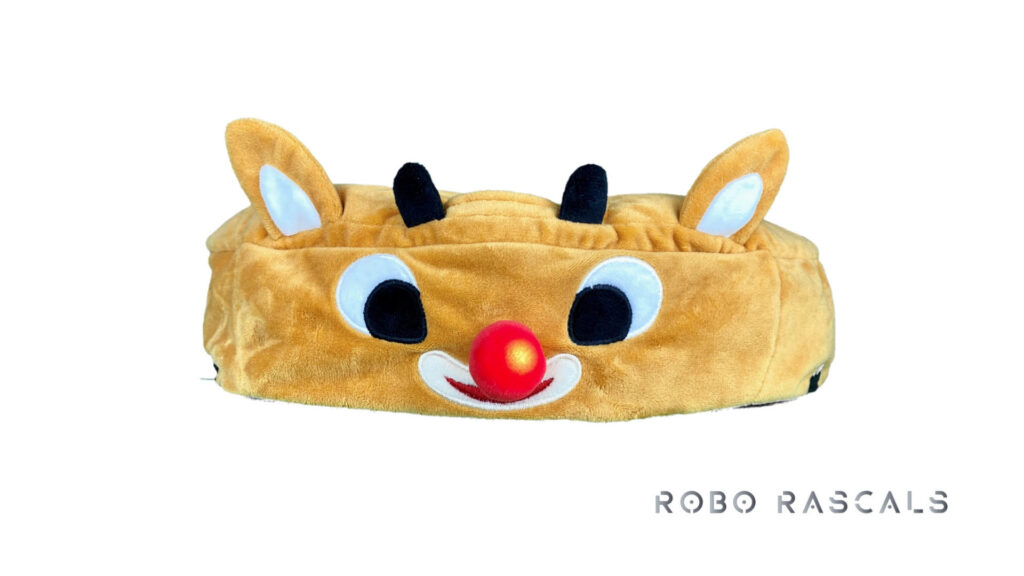 "I would love to expand the line for other holidays, such as a ghost for Halloween or a bunny for Easter, or maybe work with companies like Disney or universities to include characters or mascots," Maniff said.
"I took a mundane activity, and turned it into something fun," added Maniff, who noted that Chewey no longer barks at the vacuum and is no longer afraid of it. "A Robo Rascal becomes a friend to everyone," she said.
Maniff's neighbor, Joyce Santiago, said she loves the ladybug cover and plans to give some as holiday gifts this year. "They add a little bit of fun and enjoyment to your home, and they simply make me smile."
Eric Kissinger, who lives in Gerrardstown, W.Va., says he bought a hedgehog Robo Rascal to keep his daughter entertained during the COVID crisis. "It's fun to watch it clean compared to a boring disk moving across the floor," he said.
For now, Maniff runs the company from her One Loudoun townhouse. She already has an inventory of a few thousand units, which she personally inspects, packages, and ships from her home. Her brother's friend helped her launch the Robo Rascals' website in June, and then taught her how to edit and maintain it. Using her musical theater degree and professional acting experience, Maniff spent $39 for a video editing program and produced her own short commercial for her website.  In just a few short months, she's had orders from around the United States and even Europe.
Robo Rascals are currently for purchase directly on her website, as well as on Amazon. Maniff is also interested in selling through retailers and local shops.
Building a company prompted Maniff to stretch in other ways. She recently was accepted into Georgetown University's Flex MBA program, and she began her studies with an accounting prep course over the summer.
"It's a new adventure," Maniff said. "Acting was a career that I worked hard to build, and now I'm doing it again as a business owner. You never know what's next."
Jill Devine is a freelance writer who lives in Loudoun County. When not writing, she enjoys her job as a kindergarten teaching assistant for Loudoun County Public Schools.