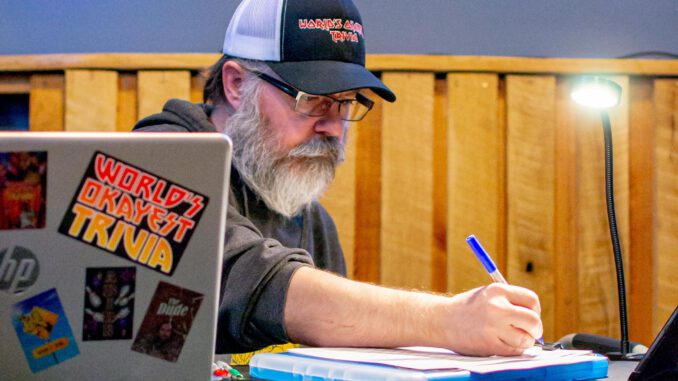 TRIVIAL PURSUIT
By Chris Wadsworth 
In this day and age of superhero movies around every corner, it must be nice to have a superpower. Chris Drummond has one. He has a super brain – for trivia, that is.
"I've always had a knack for it," the Ashburn Village resident said. "I'm one of those people where that kind of information just sticks in my head for some reason. I love all kinds of history, and I'm an old school pop culture junkie from way back. Music, movies, old TV shows – those are my strong points." 
Drummond grew up in Strasburg, Va., and moved to Ashburn about 10 years ago. It was here that he discovered he could turn his talent for trivia into a full-time job – as the founder of World's Okayest Trivia, a trivia events provider for breweries and bars across the area. 
He launched the business in 2019, and today he regularly hosts up to 20 events a month, sometimes more. 
"All in all, if I wasn't hosting – I think I'd be a guy that you'd want to have on your team," Drummond said of his skills. 
Ashburn Magazine took a deeper dive into the details behind World's Okayest Trivia by posing a series of probing questions to Drummond. Here is some of what he shared. 
Q: WHERE DID THE IDEA FOR WORLD'S OKAYEST TRIVIA COME FROM?
"It all started when I was the manager at House 6 Brewing Company in Ashburn a few years ago. We needed something to fill one of the slower weeknights and one of the bartenders suggested trivia. I'm very much a do-it-yourself type of person, so I bought myself a small PA system, thought up some questions, and jumped in with both feet. It turned out to not be a complete disaster and people actually liked it."
Q: AND IT BLEW UP FROM THERE?
"When I was leaving House 6 as an employee, they asked if I'd like to still do the trivia night, and I was totally down for it. I know pretty much everyone in the LoCo brewing scene, and the next thing I knew I was doing it two, three, four, up to five nights a week. It just slowly took over and became my gig."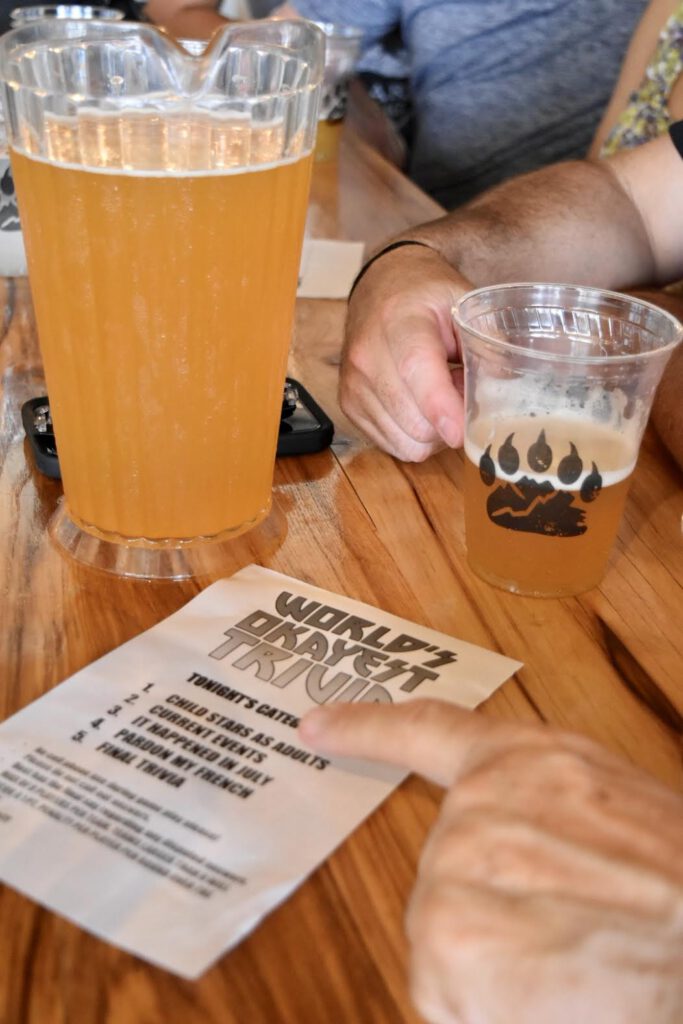 Q: TELL US ABOUT THE NAME. IT MADE ME LAUGH WHEN I HEARD IT. 
"Once I started doing this several nights a week, I realized that I was going to need to call it something and the name just popped into my head. I've always thought it's funny when you see a guy wearing a shirt that says 'World's Okayest Dad' or something like that. I have a self-deprecating sense of humor, so it just kind of seemed to fit. At the very least, it's easy to remember. I know I'd probably go to [a trivia night to] check out something with a name like that – just to see if it sucked or not." 
Q: WHERE DO YOU COME UP WITH YOUR QUESTIONS? AND HOW DO YOU MAKE SURE YOUR ANSWERS ARE 100% CORRECT? 
"I source most of my questions from a lot of different places on the internet and pull it together into my format. I honestly don't know how anyone did this before the internet. Most of it is just coming up with an idea for a category and going from there. As far as accuracy is concerned, I wish I could say I'm always 100% accurate, but you can't be right all the time. I've gotten much better as time goes on with practice in writing questions and researching." 
Q: BUT ERRORS DO HAPPEN?
"Most times issues with a question, it may just be the semantics of how it's worded as opposed to being completely inaccurate. I can proudly say that I'm very thorough with my research and can usually go weeks or months at a time without an accuracy error. Spelling errors on the other hand are an entirely different issue. I'm good for at least one of those per game."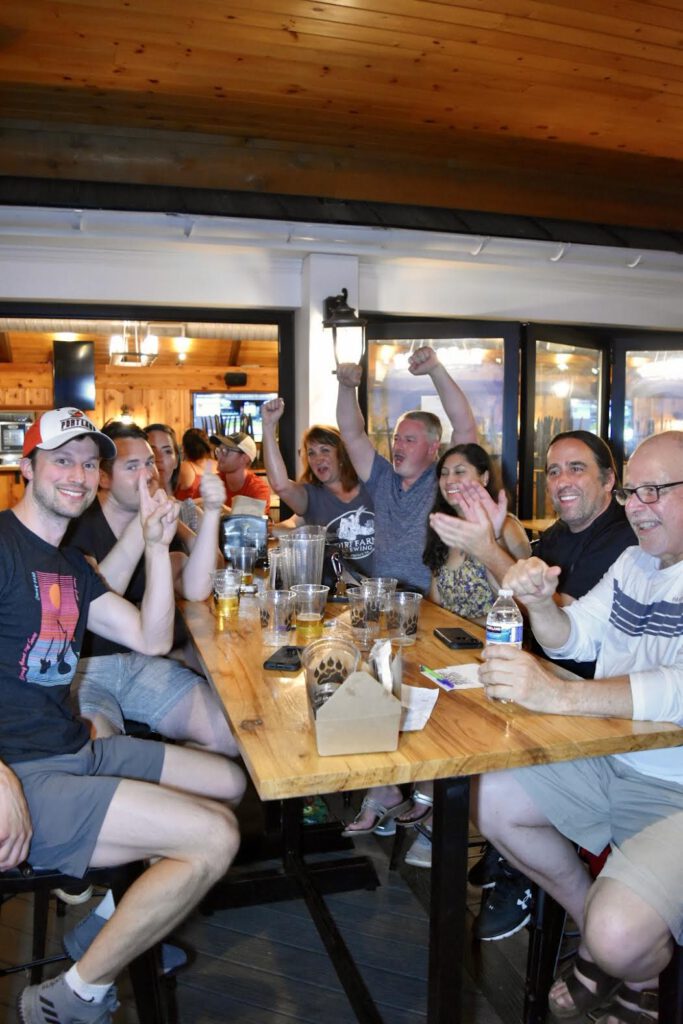 Q: WHAT TYPES OF PLACES DO YOU HOST TRIVIA AT?
"Most of my regular weekly places are breweries with some wineries, bars and restaurants as well. I've worked at a few different breweries in Loudoun County over the years and those people and places are home to me. House 6, Bear Chase and Lost Rhino are all weekly gigs I've done for years now and have a great following. I've also done nights with Ashburn Village, Brambleton and various other HOA's looking for a fun night for their residents. I've also done trivia at a wedding and even a divorce party once." 
Q: WHAT'S THE FUNNIEST THING THAT HAS EVER HAPPENED WHILE YOU WERE HOSTING TRIVIA? 
"I won't say where – and I didn't think it was funny at the time because I thought they were going to fall through my table and smash all my equipment – but a drunken couple who could barely stand up [was] passionately making out right in front of me and spilling drinks everywhere. One of the players that was there that night – and has since become a good friend – still brings that up to this day. He thought it was the most hilarious thing he'd ever seen." 
Q: WHAT'S YOUR FAVORITE TRIVIA QUESTION THAT YOU'VE EVER ASKED — OR BEEN ASKED?
"One of my research 'rabbit holes' led me to discover that when Chef Boyardee was a young man, he catered Woodrow Wilson's second wedding while he was the sitting president. I love odd, obscure things like that, so naturally I had to ask a question about it. It was also cool to discover that I have the same personal chef as a U.S president."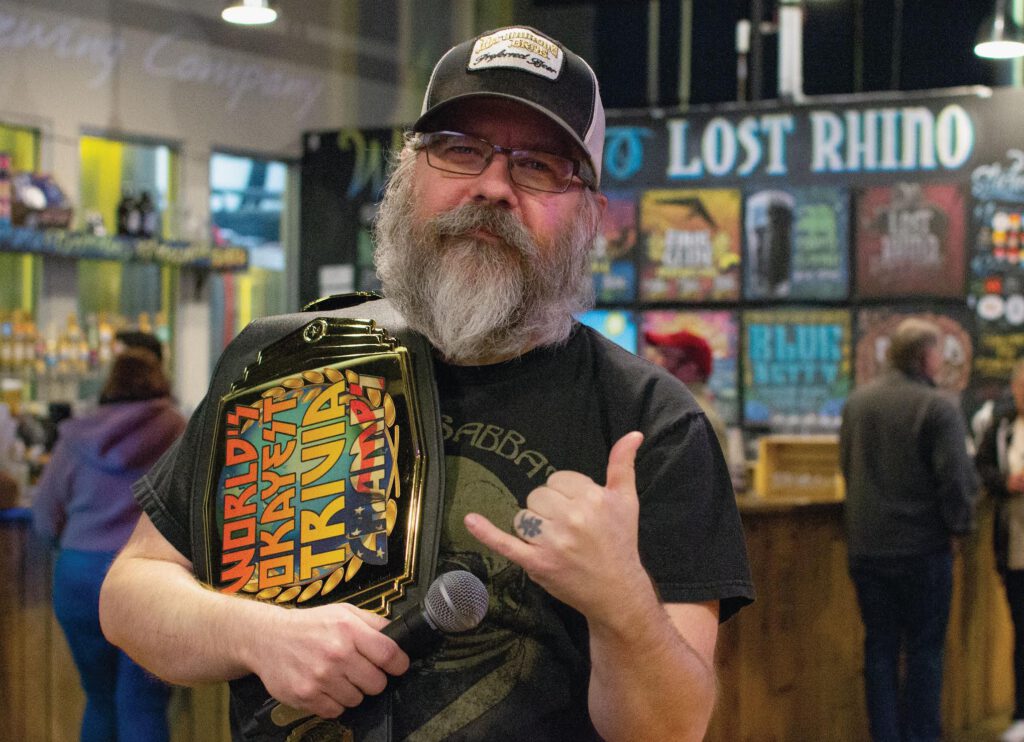 Q: WHAT WAS THE HARDEST QUESTION YOU'VE EVER ASKED — OR BEEN ASKED?
"I really like questions that make you stop and think, 'Oh, man. I should know this.' I've discovered that most people will know the high points, or the 'top layer,' of any given topic, but if you just go one deeper, it can really raise the difficulty level. We all know that Neil Armstrong was the first man to walk on the moon, but who was the last man to do so? Most people aren't going to know that and for that one person or team that does, that can win the game for them. That's a good feeling when you're the one that pulls the win for your team on a question like that. The answer is Gene Cernan by the way." 
Q: WHAT DOES THE FUTURE HOLD FOR WORLD'S OKAYEST TRIVIA?
"For now, I plan to keep it small. I take care of all the content, marketing, and do most of the gigs myself. I've been fortunate to have some great help with this venture, but I've kept it to people I know and trust. I'm really about quality over quantity. I absolutely love doing this and my biggest fear is turning it into something I don't love doing by making it too big. I could have 20 people out hosting trivia every night of the week, but I know the quality would suffer. I think this has been successful because people know they're going to have a great experience at World's Okayest Trivia."