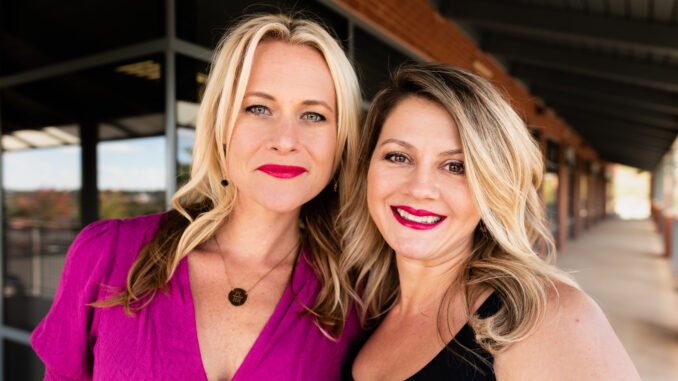 BETTER BIRTHS
By Jill Devine
Congratulations! The test came back positive, and you're going to have a baby. Whether it's your first pregnancy or your fifth, you will want support as you deal with a range of emotions, questions and decisions. Should you deliver at home or in a hospital? Will you choose natural birth or pain medication? What if you need a Caesarean section? How to calm a crying baby? How to balance life when returning to work? 
Parents have traditionally depended on books for answers — like the famous "What to Expect when You're Expecting" — covering everything from epidurals to toddler tantrums. Pre-COVID-19, they may have signed up for birthing classes, often presented in dreary hospital meeting rooms.
Now, two longtime Loudoun County friends — both certified doulas — have combined their professional experience to launch a digital education platform called Arrow. The Ashburn-based company pairs a comprehensive catalog of educational videos with access to on-demand, one-on-one virtual sessions with expert consultants.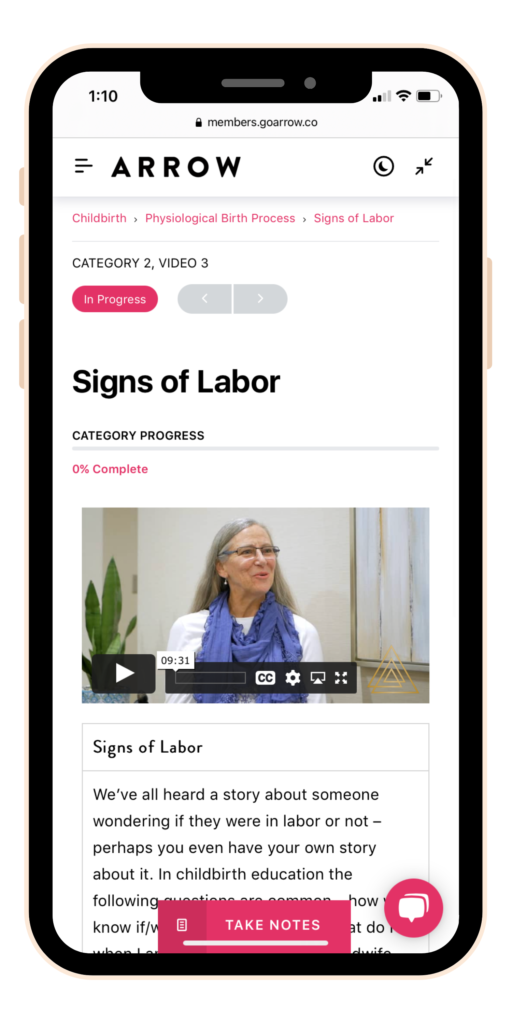 IMPROVING BIRTH OUTCOMES
Arrow co-founders Mari Stutzman Smith, who has three children and lives near One Loudoun, and Tara Campbell Lussier, who has four kids and lives in Purcellville, said they created Arrow to help busy parents they saw struggling to find convenient sources of information and support.
Friends since high school, Smith and Lussier ran separate and solo doula practices for more than a decade before deciding in 2016 to combine their skills and knowledge to build something new.
"We liked the idea of running a business together," Smith said. "I was exploring ways to create updated online education for my clients. And Tara was wanting to create a way for parents to connect with consultants to navigate important birthing decisions." 
Smith and Lussier combined $65,000 of their money to start the company. They spent 18 months assembling a network of expert advisors, including doctors, midwives, doulas, nurses, chiropractors, lactation specialists, psychiatrists and even lawyers.  Then, using the experts, they created 35 videos covering every issue a parent might encounter before, during or after birth, ranging from birthing positions to legal rights when returning to work. 
REAL LIFE STORIES
Centreville mom Molli Atallah took Arrow's birth courses last year while pregnant with her now 1-year-old son. She said the service was especially helpful after birth. 
"I was told to expect high emotions when my milk came in, but I had real anxiety," Atallah said.  "I couldn't sleep, had heart palpitations, and was constantly worried." 
An Arrow social worker consultant met with her and her husband virtually, she added, "and followed up with a wealth of resources, guiding us to a healthy post-partum experience."
Another client, Danielle Leinemann, moved a long way — from Virginia to California — so she entered pregnancy at her home in Berkeley last year without a circle of family and friends. COVID-19 made matters worse when she couldn't find any birthing classes.
Arrow came to the rescue. "I watched all 35 videos sequentially while pregnant,"  Leinemann said.  "And then I watched each one again multiple times as I actually experienced individual topics in real life."
Leinemann found the segment that describes the stages of labor particularly helpful. "Information is power — and I felt not as scared during the birth, because I really understood the nitty gritty of what was happening to my body and the baby."
GROWTH OPPORTUNITIES
Arrow launched online in spring 2019, and Smith said the company experienced "five-fold" growth between 2019 and 2020. Lussier said they based Arrow in Ashburn where Smith lives, because of its vibrant business community. 
In addition to the founders, Arrow is supported by an eight-person staff and a network of expert advisors and consultants, about 70 people in total.
After rethinking an initial effort to raise seed funding, Lussier said Arrow is now focused on preparing for a larger round of funding later this year. 
Arrow services are available for purchase directly by individuals and healthcare systems, but Arrow is particularly excited to present Arrow services to corporate employers. Lussier said companies are realizing the value of adding family-friendly benefits to attract and retain top talent, particularly during challenging times such as COVID.
"Working parents are leaving the workforce in droves — my job is to help employers improve the employee experience while keeping their workforce engaged and employed," Lussier said.
That philosophy extends to her personal life as well. "I could work 20 hours a day, and there would still be more to do," Lussier said. "Mari and I have seven kids between us, so it's important that we also take steps to balance work and family life — we must practice what we preach."
Jill Devine is a freelance writer and former magazine editor from Loudoun County who writes for a variety of Virginia publications.
(Image at top: Arrow co-founders Tara Campbell Lussier and Mari Stutzman Smith.)