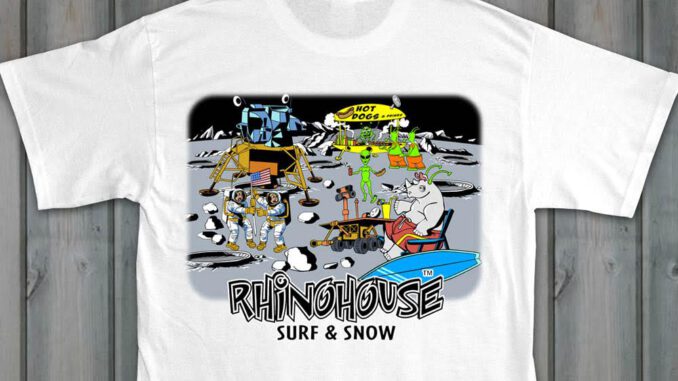 RHINOS ON THE MOON
By Colleen Reynolds
So, what really happened during that first lunar landing in 1969? While the world watched Neil Armstrong taking his giant leap for mankind — could something else have been happening just beyond the view of the camera? Like maybe a rhinoceros hanging out with some little green men at a hotdog stand? 
This fanciful vision just popped into Mike DeMeo's head one day. The Ashburn Village resident is the founder of Rhinohouse Surf & Snow — a small boutique apparel company — and the "Hotdog Stand on the Moon" is just one of its 14 unique designs.   
"The ideas just come to me," DeMeo said. "When you overthink, your best ideas don't come to you."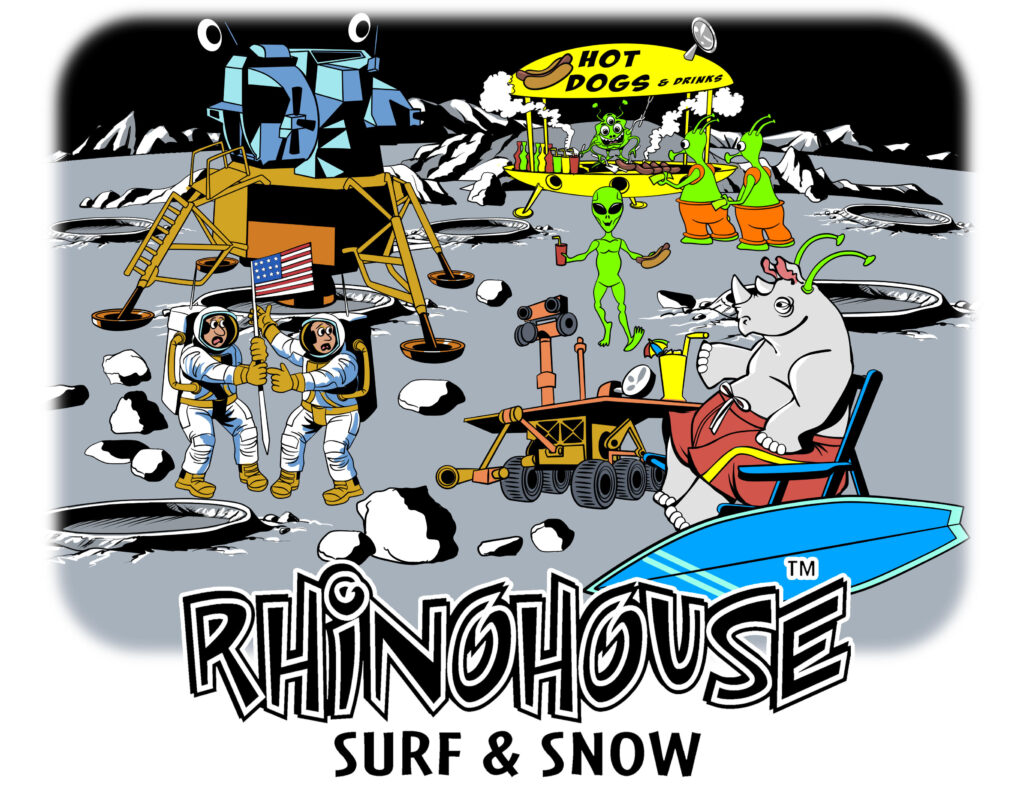 The concept of Rhinohouse started when DeMeo visited a surf shop in Ocean City, Md. He noticed a demand for specialty shirts that made a statement about a lifestyle rather than just featuring some famous logo. 
"I want people to have fun with Rhinohouse," he said. "Rhinohouse shirts are different, and a little quirky." 
He launched Rhinohouse in 2010, and it's been a slow but steady rise ever since. While his day job in sales with a local printer may keep the lights on, DeMeo says his apparel company has sold more than 7,000 shirts, hoodies and other items online. 
Some of the whimsical designs are limited editions — such as his signature hoodies that feature a unique production number printed on the sleeve. Nearly 200 of these numbered hoodies have sold. 
Other designs are sparked by things DeMeo sees and stories he hears. News events as diverse as the war in Ukraine and the Discovery Channel's "Shark Week" have led to new t-shirts.  
The ideas are filtered through a "rigorous" selection committee comprised of his board of directors. This includes his fiancée, Dr. Anita Vincent, a local anesthesiologist, and her two sons. DeMeo likes to say their three dogs, three cats and a ferret also give him honest feedback and suggestions.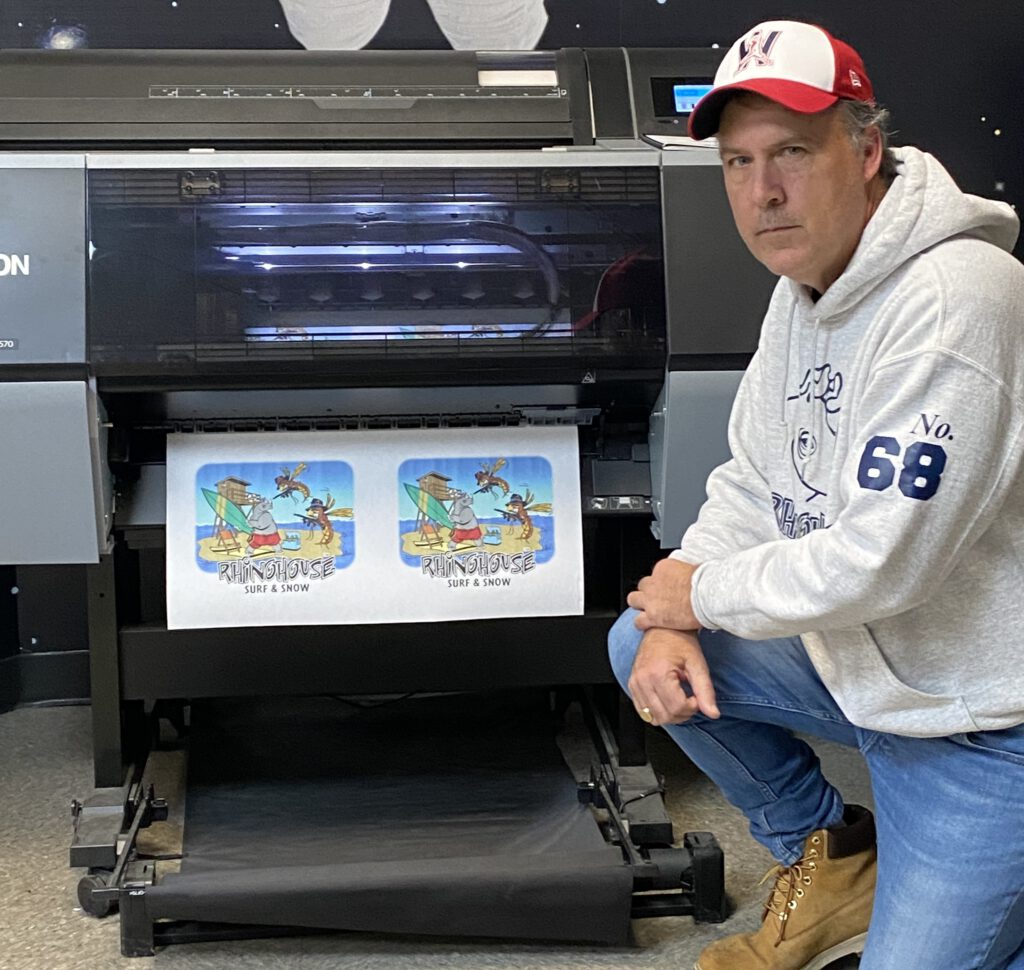 DeMeo is the idea man, but he is not an artist. For the brand's unique design style, he relies on a man named Jerry Emerson. In a sign of this modern "virtual" world we live in, DeMeo has never met Emerson in person, never spoken to him on the phone and doesn't even know where he lives. All communication is by email. 
DeMeo sends Emerson his general idea, and Emerson sends him artwork. They collaborate on what to change and what to keep, and somehow it just works.  
"Jerry won't pick up the phone if I call," DeMeo said. "I found his work online and liked his style. His preference for just working through email works for both of us. We go back and forth until we nail it." 
Emerson said in an email with Ashburn Magazine that he has offered caricature and cartoon design services online for about 28 years. "Over that time, every design requested by a client was thrashed out only by email communications," he wrote.
According to Emerson, his greatest challenge with Rhinohouse is to tell each funny story with just enough characters, background and action to focus on the central figure of the Rhino that he and DeMeo affectionately call "Our Guy." 
DeMeo didn't choose the rhinoceros as his mascot by chance. He says he's committed to doing his small part to help protect endangered rhinos from extinction. 
On the Rhinohouse website, he dedicates space to educate visitors about rhinos and features links where donations can be made to rhinoceros protection groups. One of the charities is a nonprofit called the Black Mambas. It's the world's first all-female anti-poaching unit with 26 young African women who patrol thousands of acres of a nature preserve in the Kruger National Park in South Africa.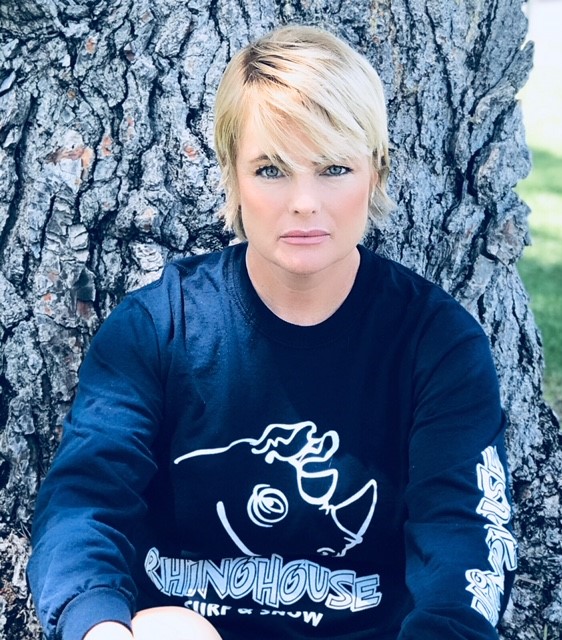 The combination of cool design and helping rhinos has attracted an eclectic fan base. "Baywatch" actress and Playboy model Erika Eleniak has been spotted with a Rhinohouse tee. So has Mike Love of The Beach Boys. 
Among Rhinohouse's fans is Dayna Grant, who runs a school in New Zealand for stunt performers and has appeared doing stunts in various TV shows and films, including the movie "Wonder Woman."  
"I can wear my favorite shirt to my stunt trainings while raising awareness to save the rhinos at the same time," she said. 
DeMeo said poaching of rhinos is a serious problem. 
"Rhinos may look really mean, but they are some of the gentlest creatures on earth," he added. "I want Rhinohouse to be about more than just cool-looking apparel. I want the brand to make a difference, too." 
Colleen Reynolds is a communications specialist and a freelance writer who has written numerous articles for newspapers and websites.